Titanfall will be playable at Eurogamer Expo
For the first time in the UK.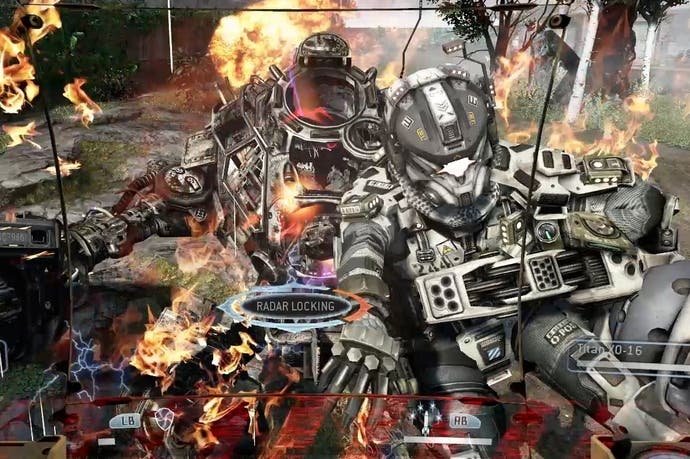 Pew pew! Not long now until the Eurogamer Expo at the end of the month, and as you may have seen over the weekend, Respawn has confirmed that Titanfall will be playable at the show, marking the first time it's been available for public hands-on in the UK.
Lots of questions about Eurogamer Expo. Yes, Titanfall will be there, playable. See you after Tokyo, London.

— Respawn (@Respawn) September 7, 2013
There will be multiple six-on-six battles available for attendees to take part in as part of Titanfall's hefty show floor presence, giving players the chance to sample battles featuring the game's unique mix of free-running pilots and stompy mechanised titans.
Titanfall is due out for PC, Xbox 360 and Xbox One in Q1 2014 and looks enormously sexy. Check out Digital Foundry's interview with Respawn at Gamescom for details on the lengths the developer has gone to in order to deliver a precise, responsive multiplayer experience in exciting new environments.
Titanfall is far from the only game on the Eurogamer Expo show floor, obviously. We also have Assassin's Creed 4, Battlefield 4, Dark Souls 2, FIFA 14 and a huge range of others, along with both the PlayStation 4 and Xbox One.
Full details are available on the Eurogamer Expo website, where you can also check out some of the other attractions planned for the four-day event at Earls Court, London. The show takes place from 26th-29th September and is now completely sold out, although we'll have live coverage here on Eurogamer - including Phil Harrison's live-streamed Xbox One presentation at 12pm on Thursday 26th.
If you're coming to the show, see you there! Do say hello if you spot us.
Full disclosure: The Eurogamer Expo is organised by Gamer Network, which publishes Eurogamer.net. Editorial staff are involved in the curation of show content but nothing on the commercial side. Check out our public policies on how we work for more details.