Time-stopping action puzzler Superhot launches Kickstarter
UPDATE: Funded in one day. May come to consoles after Steam.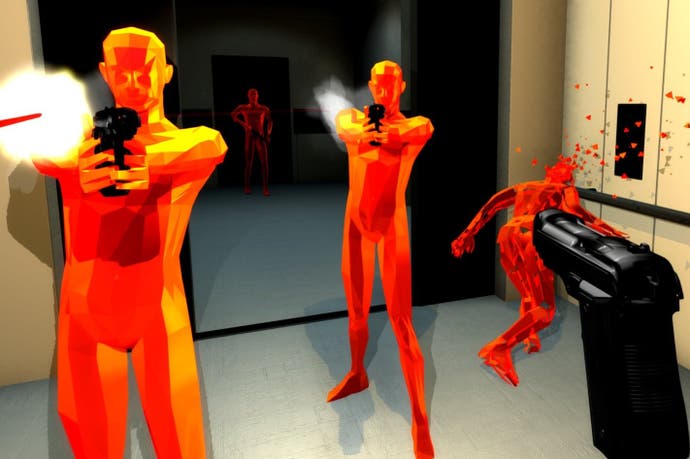 UPDATE 15/05/2014 11.40pm: Superhot's crowdfunding campaign has been super hot, as the Polish indie has smashed through its $100K Kickstarter goal after only a day.
Even better, it succeeded its first stretch goal to hire a 3D animator to make everything look all nice and shiny.
At $150K the dev team will add a Speedrun Mode, and at $200K it will include a Replay Mode, so you can watch what your time-stopping battles would have looked like in real-time. Chances are they'd look pretty friggin' cool.
When asked about the possibility of a console release, the dev team's Luke Spierewka told Eurogamer that it's been in talks with console manufacturers, but it doesn't want to bite off more than it can chew by going multiplatform until the initial PC, Mac and Linux release is ready.
"We'd love to port Superhot to consoles, but right now we're fully focused on PC/Mac/Linux," he explained. "We'd like to avoid a Luftrausers-like situation where the launch had to be postponed because of certification process and problems on different platforms - that's why right now we're waiting with porting until after the release."
Superhot has currently raised $125,838 with 29 days to go before its 14th June deadline.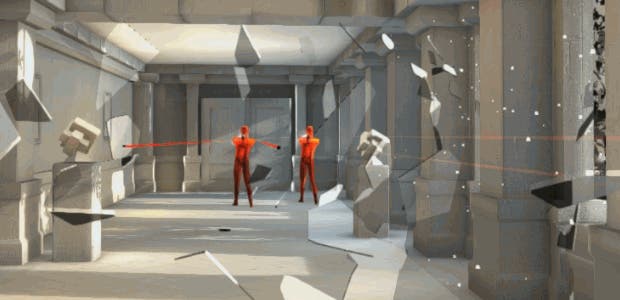 ORIGINAL STORY 14/05/2014 1.03pm: Polish indie FPS/puzzler Superhot has taken to Kickstarter, where it's looking to raise $100K to wrap up development on its commercial remake.
Astute readers will recall that we covered the stylish time-stopping shooter last autumn, when it set a record for being the fastest game to get accepted on Steam Greenlight.
For the uninitiated, Superhot is an FPS/puzzle hybrid where time only moves when you do. Originally developed as part of the week-long Seven Day First Person Shooter game jam (7DFPS), the free browser game got so much attention that its developer instantly knew it had the audience to make it worth fleshing out into a commercial product.
Since its browser release, Superhot has added a graphic artist and art director to spruce up its minimalist, mostly monochrome visuals, but the developer noted that it will retain "the aesthetics that helped to make the game so popular". As such, the game is still mostly black & white with only enemies and weapons appearing red, but the visual effects have been enhanced significantly with all sorts of neat textures, lighting, and environmental details giving the product a much more refined, stylish edge.
Furthermore, the final game will feature more levels, weapons, enemy types, an infinite arena mode, Oculus Rift support and more.
Those who pledge $14 towards Superhot will receive a digital copy of the game for PC, Mac and Linux upon its estimated June 2015 release, while pledges of $25 come with a digital art book and soundtrack, and $40 comes with early beta access.