This Oculus Quest 2 VR headset is £20 less from Argos right now
VR all ready for good headset deals.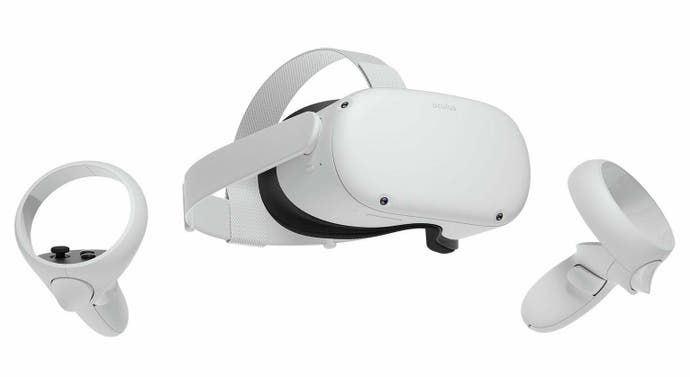 With VR prices beginning to drop over the last few years even, as the technology gets more advanced, it's always nice to see those two things meet in the middle. That's why those in the UK should be able to get £20 off the bigger 256GB version of the new Oculus Quest 2, a VR headset designed to be used independently of a PC or console.
To get the deal, head to the Argos eBay page linked below, add the Quest to your basket and enter the code 'PRODUCT5' at checkout to take £20 off. Be quick though - the deal is for today only!
For the few who are unaware, most VR headsets need to be plugged into a larger device (such as a PS4 or your desktop). But the Quest is an exception. No more being tangled in wires or limited to whatever room you keep your computer in, the Quest doesn't even require sensors placed around the room. That doesn't mean you can't plug it into a computer for a more high-end experience, but it works perfectly well without one. The only time you'll need wires is to charge it up like any other portable device.
That being said, this version of the quest is still the more expensive of the two, even with the discount. As the Quest doesn't need to be tied to a bigger device, it means all the games have to be stored inside it, hence there being two versions: the 64GB model, and the larger 256GB headset. Which model you want will depend on how much you carry it around, how many games you plan to buy, and just how much you hate the chore of deleting and downloading new games online.
Sadly this discount doesn't also apply to the 64GB Quest 2, but who knows what could be coming later as we approach Black Friday? For all the best info, check out our PS4 Black Friday hub page (which is currently leading the way in VR console gaming), or go to the Switch Black Friday hub for all the details on the most popular console going. Or head to the Jelly Deals Twitter page for instant info on all the best deals!