These Xbox One X bundles now start at £259
Plus, Xbox One S bundles at £209!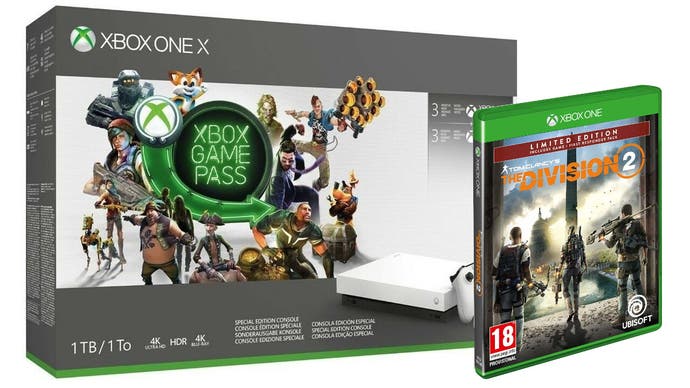 If you're looking for a bargain on a current-gen console with the PS5 and Xbox Series X on the horizon then you might want to check out Game where you'll find a range of Xbox One X bundles discounted to an all-new low price.
You can get an Xbox One X with one game for £259. The games available include the likes of The Division 2, Metro Saga, Fallout 76 and PUBG. There are also a handful of bundles that come with two games for £279. I've picked out a couple of the standout offers below, or you can browse the full range of Xbox One X bundles on sale.
It needs to be pointed out that these Xbox One X consoles are described as "New in Open Box" by Game. They define this as "some external packaging damage in the form of broken seals or cosmetic box damage". For all intents and purposes, then, these are new consoles you're getting. All your usual statutory rights are in place, too, so if you decide to get one and aren't impressed with what you receive then a return is still possible.
You can also find a number of Xbox One S consoles reduced to £209. Unlike the Xbox One X consoles, these are completely brand new and sealed. There's either a 1TB Xbox One S with Gears 5 and The Division 2 or a 1TB Xbox One S with Star Wars Jedi: Fallen Order and The Division 2.
Essentially, these bundles appear to be specifically targeted at people who like Tom Clancy and collecting legendary shin pads from the rubble of Washington DC. The price cuts also make a lot of sense when you consider that the early reveal of next-gen consoles has caused current-gen sales to plummet.
Are you just waiting for the PS5 and Xbox Series X or keeping an eye out for more low prices like these on current consoles?
If you're after some Xbox game deals, though, there are a few good bargains floating around at the minute. How about Fallout 4 for the incredibly low price of £3.99? Or Gears 5 for £16.99? Maybe just The Division 2 on its own for £8.99?
We'll be sure to let you know about any more console bargains we spot over at Jelly Deals. You can also find all the info you might need to know ahead of an Xbox Series X pre-order, or track down the best price for Xbox Game Pass Ultimate.