There's an Enter the Gungeon spin-off heading to Apple Arcade "soon"
And it's a "bullet hell dungeon climber".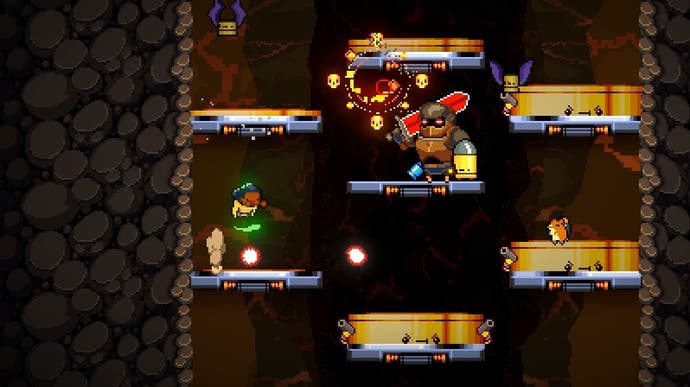 Developer Dodge Roll's sublime bullet hell dungeon crawler, Enter the Gungeon, is getting a spin-off! It's called - wait for it - Exit the Gungeon, and it's coming to Apple Arcade "soon".
According to publisher Devolver Digital, Exit the Gungeon is a joint project by Dodge Roll and developer Singlecore Games, and reworks its predecessor's critically acclaimed top-down dungeoneering action into what's being referred to as a "bullet hell dungeon climber".
"The Gungeon has become a paradox and is collapsing!," exclaims Exit the Gungeon's release announcement. "Armed with an ever-changing weapon, an insatiable need to loot, and the trusty dodge roll, each of our heroes must ascend and escape via their own unique route of increasingly perilous elevators."
There'll be plenty of Gundead to battle against, plus appearances from a few familiar faces, with Devolver promising "shifting rooms, enemies, bosses, bizarre weapons, and items" in what sounds like an altogether more horizontal take on Enter the Gungeon's procedurally generated action. Oh, and you can wear hats too.
Exit the Gungeon will be debuting "soon" on Apple's new gaming subscription service, Apple Arcade, meaning it'll be playable on iPhone, iPad, Apple TV, and Mac. There's currently no word as to whether it'll be making its way to other platforms at a later date.