There's a mysterious new Resident Evil 2 remake Steam trophy
And fans are having fun guessing what it means.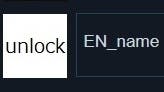 A new Steam trophy was added to the Resident Evil 2 remake last month - and no-one knows how to unlock it.
Scroll all the way down to the bottom of the trophies list for Resident Evil 2 remake, and you'll find the entry for "EN_name" below. There's little to go on about this mysterious new trophy. We know no-one has unlocked it, and the name is placeholder, so we don't know what it relates to, but we do know it was added through a patch in November. It was also added to the Japan-only Cero Z version of the game, so it likely isn't a mistake.
We've asked Capcom for comment.

When the Ghost Survivors DLC launched for Resident Evil 2 a month after the game, there were two new trophies added. Both new trophies related to completing the new DLC, and now fans are theorising: could this mean new DLC is coming to the horror remake?
One Resident Evil subreddit user really wants prequel DLC for Brad, the hapless gun shop owner in Raccoon City who's forced to kill his infected daughter.
In the comments further down, people are still pining for Resident Evil 2's version of Mercenaries, the gauntlet mode released as part of the original Resident Evil 3. Personally, I wouldn't mind spending a bit more time with doomed police chief Marvin Branagh.
DLC for the remake isn't the only Resident Evil property on the horizon. A remake of Resident Evil 3 was confirmed to be in development by Eurogamer's sources, and several covers for the game were leaked through a PSN listing earlier this month.