There's a Halo arcade game - and Robotron designer Eugene Jarvis is involved
Shock and awe.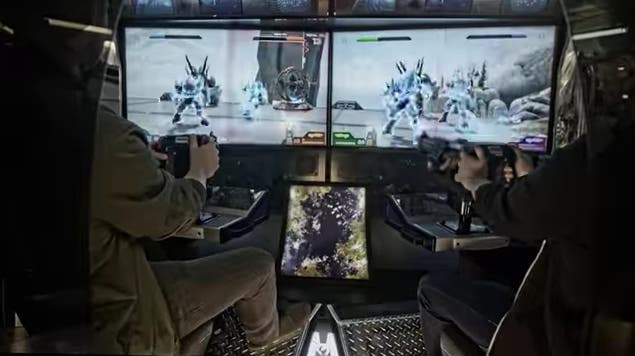 Microsoft has announced a new Halo game - for arcades.
That's right, there's a new Halo game in the works for all those arcades that don't exist anymore.
Halo: Fireteam Raven is an arcade shooter for up to four players built by Raw Thrills and Play Mechanix in a partnership with Halo custodian 343 Industries. Fireteam Raven is set in the timeframe of Halo: Combat Evolved. As you'd expect, you play one of Fireteam Raven, a group of Orbital Drop Shock Troopers (ODSTs), who land on the surface of Alpha Halo and fight alongside Master Chief and the rest of the UNSC against the Covenant and the Flood.
Fireteam Raven is housed in a beefy unit that includes a 130-inch, 4K screen and four turret-mounted machine guns. It's worth noting that the boss of Raw Thrills is the designer of Robotron, Eugene Jarvis. (For more on Eugene Jarvis, be sure to check out Christian Donlan's interview with the legendary arcade game developer on his collaboration with Resogun maker Housemarque.)
"Halo: Fireteam Raven is without a doubt, the most spectacular arcade experience we've ever made," said Jarvis. "After years of development it is now ready. Experience the intensity and live the world of Fireteam Raven. You will never be the same!"
Here's the trailer.
Of course, Halo: Fireteam Raven isn't the new Halo we were expecting Microsoft to announce next, but it looks like intense arcade shooter fun nonetheless.
Halo: Fireteam Raven launches first this summer at Dave & Busters in the United States and Canada, but it will expand to more locations eventually.
With Halo in mind, and E3 right around the corner, could Microsoft be ready to unveil Halo 6? Fingers crossed we hear about the game in June.