There's a limited-time Tetris Effect demo coming this week on PS4
Featuring a 24-hour "Weekend Ritual" event.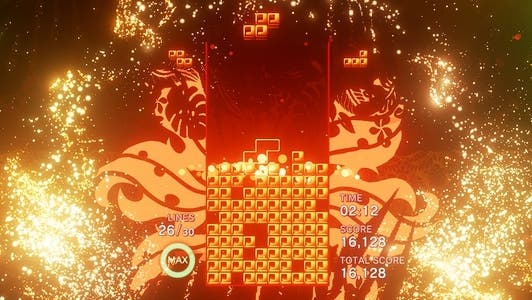 Tetris Effect, Rez and Lumines director Tetsuya Mizuguchi's psychedelic take on the classic falling block puzzler, is getting a limited-time demo this week on PlayStation 4, starting on November 1st.
The Tetris Effect: Weekend Trial Demo, as developer Enhance is calling it, will be available between Thursday, November 1st and the morning of Monday, November 5th. It will feature three stages of the game's main "Journey Mode" campaign (each stage featuring a unique theme, graphics, music, sound effects), plus Marathon Mode and Mystery Mode.
Marathon Mode, according to Enhance, challenges players to get the best score possible within a 150-line limit, and Mystery Mode tasks participants with surviving a Marathon session while positive and negative effects randomly occur.
Enhance has also announced a special 24-hour Weekend Ritual event, running from 12pm UTC on Saturday, November 3rd. Here, players can earn points in a specific mode, and if enough points are accrued to reach the set Community Goal target, a unique in-game avatar will unlock for all event participants. The avatar can only be used in the demo, but similar Weekend Ritual events will be held weekly once the full game launches.
All this will be playable in 2D on a TV display and there's optional PSVR support for those with the appropriate hardware. Additionally, there's 4K and HDR support for PlayStation 4 Pro.
To accompany the demo news, Enhance has also fully detailed Tetris Effect's extensive roster of modes. Alongside the main Journey campaign, Tetris Effect includes 15 additional 'Effect' modes such as Marathon Mode (Get the best score within a 150-line limit), Ultra Mode (Get the best score within three minutes), Sprint Mode (Clear 40 lines as fast as possible), and Master Mode (described as "Insanely fast Tetris").
There's also Chill Marathon Mode, Quick Play Mode, Playlist Modes Sea, Wind, and World, All Clear Mode, Combo Mode, Target Mode, Countdown Mode, Purify Mode, and Mystery Mode.
Tetris Effect launches on PlayStation 4 and PSVR on November 9th.