There's a bumper crop of titles coming to Xbox One and PC Game Pass this month
PES 2020! My Friend Pedro! Pathologic 2!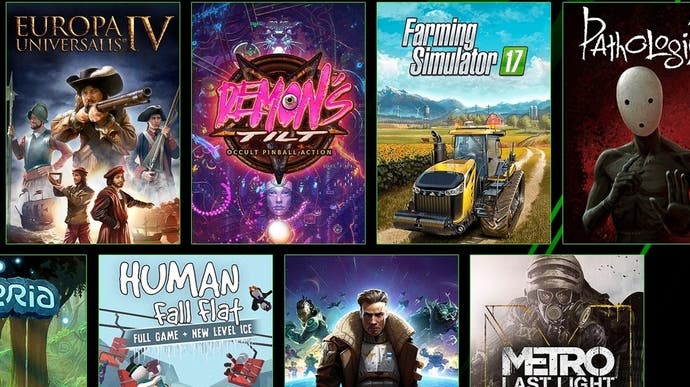 Microsoft, perhaps in the grip of sudden festive cheer, has unveiled a bumper selection of titles coming to Game Pass on Xbox One and PC this month, including PES 2020, The Division, balletic shooter My Friend Pedro, and punishing plague horror Pathologic 2.
Starting with Xbox One (because Microsoft is yet to provide dates for everything happening on PC), things kick off tomorrow, 5th December, with anime battler Naruto to Boruto: Shinobi Striker. That's joined by the aforementioned My Friend Pedro, in which a man embarks on a side-scrolling rampage at the behest of a talking banana.
One day later on 6th December, Xbox One Game Pass gets the seemingly well-received (according to its early access reviews on Steam, at least) Demon's Tilt, which looks to be occult-themed pinball with a chaotic shoot-'em-up twist. Charming musical platformer Wandersong, in which a spritely bard attempts to thwart the apocalypse, arrives on the same day.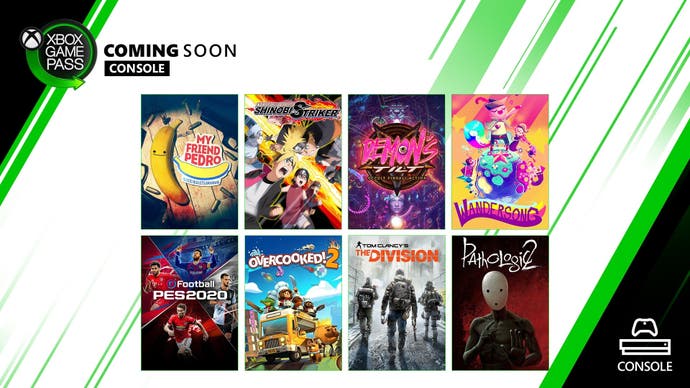 Rounding off the month's currently announced Xbox One Game Pass additions on 12th December are Pro Evolution Soccer 2020, multiplayer shooter The Division, and hilarious co-operative chef caper Overcooked 2. Also on that list is developer Ice-Pick Lodge's fascinating plague horror Pathologic 2 - a game as intentionally dispiriting as it is bleakly mesmerising, and the most haunting thing I've played all year.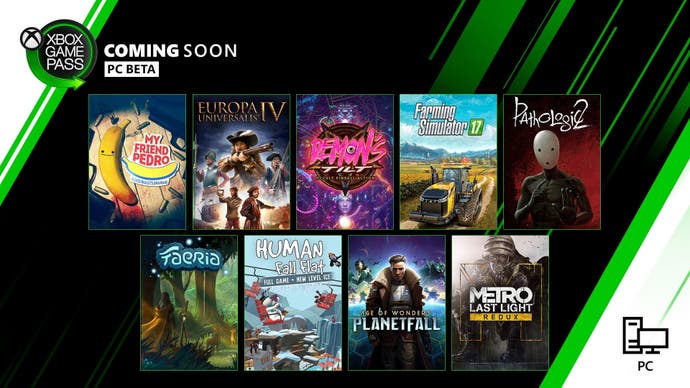 As for the next batch of Game Pass offerings on PC, I can tell you what they are, but not quite when they'll be. My Friend Pedro, Demon's Tilt, and Pathologic 2 are joined by fantasy 4X strategy game Age of Wonders: Planetfall, empire builder Europa Universalis 4, Farming Simulator 17, Metro: Last Light Redux, Human: Fall Flat, and collectible card game Faeria.
Hopefully Microsoft will whip out its calendar and fill in some dates for that lot soon.