There are 8 different Halo 4 UK pre-order deals
And they're each exclusive to a different shop.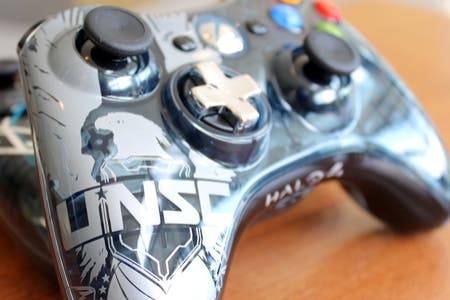 If you want all of Halo 4's UK pre-order extras, you'll need to buy the game from eight separate shops.
Game shop chains GAME and HMV got the best loot.
Putting down money at GAME will get you a downloadable Blue Circuit Armour Skin, an Arctic Weapon Skin and 6 specialisations for use in Halo 4's Infinity Multiplayer mode.
A pre-order at HMV will unlock a downloadable Locus Helmet, Purple Spartan Warrior Armour and Xbox Live Unicom Avatar Armour, but only if ordered in-store.
Supermaket behemoth Tesco is offering a Halo 4 t-shirt (no word on whether its for your avatar body or your actual body) and a downloadable Black Raptor Armour Skin.
Amazon is providing a downloadable Gold Web Armour Skin, Bulletproof Emblem and Spartan Emblem.
Blockbuster gets you a downloadable Xbox Live Spartan Warrior Avatar.
Play.com will give you a downloadable Deadeye Helmet.
ShopTo has a downloadable Assassin Emblem.
Still reading? Grainger Games has a downloadable Red Pulse Armour Skin.
Halo 4 parks in the UK on 6th November. There will be a Limited Edition Halo 4 Xbox 360 console that makes noises, too.