The Witcher: Enhanced Edition
More bewitching than ever.
Another good twist is to choose to delve into the titular Witcher deeply, rather than choosing to simulate many classes shallowly. While there's room to choose your style of Witcher, throwing all effort into trying to make the game respond to your unique nature as a genetic-mutant potion-brewing sword-swinging freak has paid dividends. It does make you wonder what an RPG could be like if they threw all their efforts into another, relatively unexplored class.
But we wander into speculation, and there's still much more to talk about in this big box. And it is a big box. Firstly, it's worth stressing that a lot of this material's actually available online - for example, the Enhanced Edition changes will be available in a large downloadable patch to anyone who owned the original. However, for a deluxe package like this, the 30 quid RRP is impressively reasonable. The assorted things in the box are so spread out across the room that I'm having trouble finding all the discs included to work out how many there actually are. Well, from memory - there's the game disc. There's the extended edition disc (including two extra missions and the Witcher creator-toolkit). There's the the DVD commentary disc. There's the CD soundtrack disc. There's the "music-inspired by The Witcher game" disc.
Let's repeat that: "Music inspired by The Witcher game". It's an odd whistlestop tour through the Polish music scene and sounds like a mixtape by your D&D obsessed mood-swinging best mate, bouncing from metal to faux-medieval folk. Particularly bewildering is Lady Arrp who plays a celtic-harp over something akin to elvish dubstep. This isn't your grandad's bard. There are also three small books - the manual, a game guide and a novella by the original author of The Witcher, Andrzej Sapkowski.
Crikey. There's even a map. Not a cloth map, but you can't have everything.
The most interesting element for Witcher veterans are the two new missions. The Price of Neutrality is set in a new location near the Witcher's castle, and is - as the title suggests - set around one of those hard decisions the game tends to throw at you. Where it differs is, due to its closed structure, is that the fallout from the call is thrown at you, so you know how it all turns out.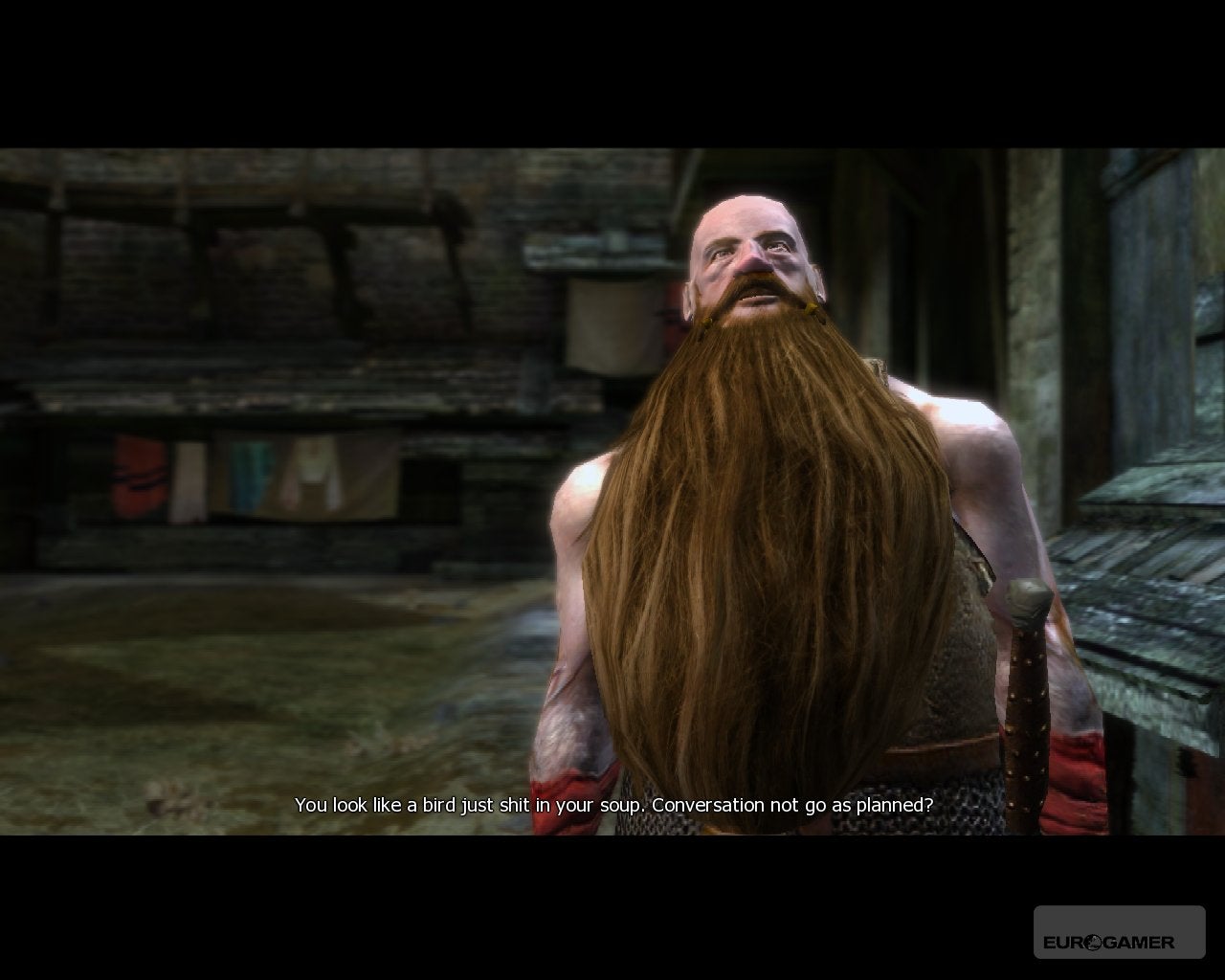 The second mission isn't as emotional, but perhaps a little more replayable - it's the simple task of trying to gain 2000 gold in a city to pay off a friend's debts. While constrained and re-using locations from the original game, it's actually a neat slice of the Witcher's world with some open-ended adventuring and coin-gaining - I played to completion without actually using some of the options for getting cash. They also show the potential in the game's toolkit to make further adventures in the game world, even if you have a limited lead - though it's likely to be a long time before the community realises something of a similar quality.
"Similar Quality" is nagging in my ears a bit. Last year was bad for the PC RPG. This year, at least so far, has been even worse. In such times it's easier to look kindly on The Witcher, even the original version. The new and improved package is increasingly attractive. There are still some rough edges, and moments of genuine drama are still undercut by how they're performed, but this is an agreeably driven RPG in an agreeably ornate package. I also believe the developers' continued support for the game and commitment to expensive improvements - which I stress you'll be able to download and patch into any existent version - should be applauded.
If you've been umming and ahhing over trying the Witcher, I think this is enough to push you into a straight Ah!
Will you support Eurogamer?
We want to make Eurogamer better, and that means better for our readers - not for algorithms. You can help! Become a supporter of Eurogamer and you can view the site completely ad-free, as well as gaining exclusive access to articles, podcasts and conversations that will bring you closer to the team, the stories, and the games we all love. Subscriptions start at £3.99 / $4.99 per month.