The Witcher: Battle Arena MOBA available tomorrow
Free-to-play spin-off for iPhone, iPad and Android.
The Witcher: Battle Arena will be available to download tomorrow, 22nd January, on Android and iOS devices.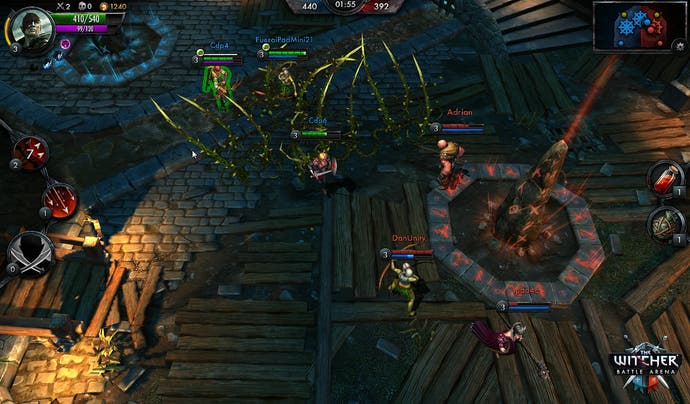 A free-to-play MOBA with in-app purchases, the game will extend CD Projket Red's Witcher universe with a "mobile-focused experience".
Familiar characters such as sorceress Philippa Eilhart, mohawked dwarf Zoltan Chivay and Kingslayer Letho Gulet will all appear, although series frontman Geralt of Rivia will not.
CD Projekt has promised that the game will offer a balanced and fair pay structure with no pay-to-win elements, although you will be able to speed up the process via micro-transactions.
"It will be a free game," project manager Tadek Zielinski promised to Eurogamer last year.
"You know we are fair with gamers. We are known for giving away stuff for free. We believe free is fair. So we wanted to realise our philosophy also with the MOBA game."
All items and heroes can be unlocked by playing the game, but you can spend real money to accelerate your unlocking speed.
"You will mostly pay for saving time," Zielinski added. "If you don't want to farm for your hero you can buy him. And also there are vanity items you pay for. But there will be absolutely no pay to win elements in our game."
Battle Arena was first shown off back at E3 2014, when it was announced for a Q4 2014 launch on iOS, Android and Windows Phones. There's no word on whether the Windows Phone version is still on the horizon.