The Surge's big amusement park expansion now has a proper release date
And there's a trailer to celebrate the news.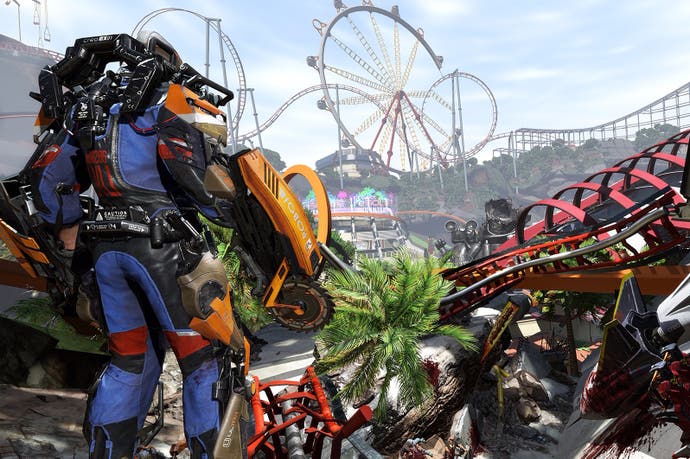 Developer Deck13 has released the first footage of A Walk in the Park, its upcoming, large-scale expansion for Dark-Souls-inspired sci-fi adventure The Surge - which, it's now revealed, will launch for PC, PlayStation 4, and Xbox One on December 5th.
A Walk in the Park was announced last month and is the first major expansion for The Surge. It promises to offer a bit of a structural departure from the base game, trading claustrophobic industrial corridors for the vibrant openness of the CREO World amusement park - which, as you'd expect from any theme park worth its salt, comes complete with rollercoasters, a ferris wheel, and murderous robot mascots. All of which looks a little something like this:
Deck13 described A Walk in the Park's new amusement-park-themed map as more "open" than anything previously seen in The Surge, "full of branching paths and secrets to discover". And if newfound traversal freedom isn't enough to be getting on with, the expansion also includes 16 new weapons, armour sets, and implants.
A Walk in the Park is currently listed at £12.99 on its Steam pre-order page, and will likely be similarly priced on other platforms when it launches on December 5th. A Complete Edition will also be released on the same day, bundling up the original game and all DLC - that's A Walk in the Park, the CREO Special Employee Kit, and the Fire & Ice Weapon Pack.