The Stanley Parable sold over 100K copies in three days
Attributes its success to its bizarre marketing campaign.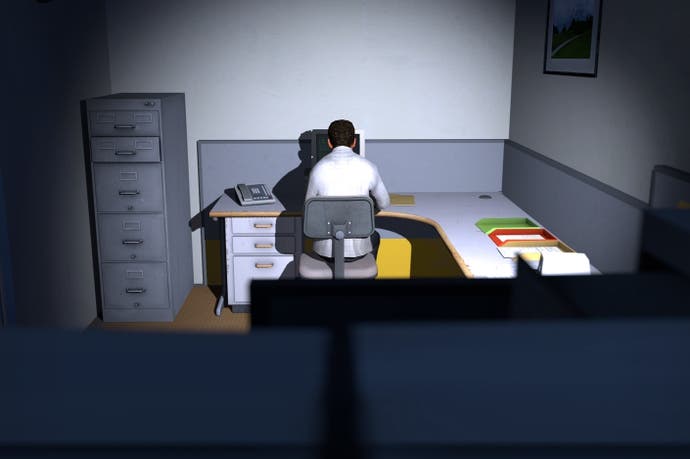 First-person storytelling satire The Stanley Parable shifted over 100K digital copies in a scant three days, developer Davey Wreden announced.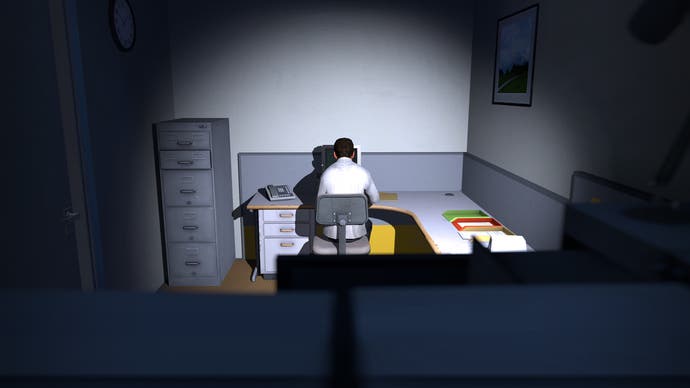 Wreden explained in a postmortem that he owes much of its success to its bizarre marketing campaign that showed nothing of the final game. "We released five trailers over the course of the game's development, and not one of them contains any substantial actual footage of the game," he said. "If you make the marketing material interesting on its own, it's irrelevant whether it 'sells' your game. Our focus was always on creating content that was on its own fun for people to experience and to be a part of, with essentially zero per cent of the design aimed at trying to get the game to sell."
He noted that his studio, Galactic Cafe, took this same approach to the game's peculiar demo, which like the trailers, contained no content from the actual game. "Since our game was very difficult to talk about without spoiling, why not simply make an extra piece of game in the spirit of the main game to convey what it's about?" he wrote. "Most of the assets in the demo are re-used from the main game, so very little time was spent on content creation. I was writing it in the background for a few months, and William [Pugh, level designer] spent about three weeks building the version you can play now."
While Wreden didn't have exact figures on how may people played the demo, he estimated that it was 150-200K since the game's launch last Thursday. More to the point, he believes that by making the demo a completely standalone, free project, it allowed The Stanley Parable to receive double the exposure as a lot of media outlets wrote about the demo separately.
"Essentially we got the press equivalent of two video game launches," he said. "And we cheated, since we re-purposed most of the assets that we were using for the main game. All that it took was a creative remix of those resources and press outlets, YouTubers and people all over social media were eager to talk about it. Plus, because the demo was free, this was essentially the equivalent of an artist putting out free work to gain attention and then monetising later work once there's an established audience, except we did that whole process in a week. The quick turnaround means that we could channel all of the energy from the demo straight into the main game."
"We spent two years making The Stanley Parable. For an extra two months work, we get an entire second game's worth of press. That seems like too good a deal to risk going without."
Additionally, Galactic Cafe tailored different versions of the trailer and Let's Play videos to different outlets, tossing in a few altered lines of dialogue to appeal to the folks at Game Grumps and Revision 3. "Every one of these custom versions was borne out of a personal conversation with someone at that channel, it was always a desire simply to give something back to a community that we cared about and to have fun doing so," Wreden said. "I would definitely do more of these kinds of personalised pieces of marketing in the future, and to know who I'm doing it for and why I care about that particular community."
"The focus from the game itself to the supporting media was always the same: make this something that people will want to talk about," Wreden concluded. "Each one had to be unique, had to have its own thought put into it, as though we were releasing it purely on its own. In doing so, we were able to get away with saying nothing about the main game because by the time the main game actually launched, the name itself was on a lot of peoples' minds."
"Give people a reason to talk, that's all we aimed for, and the rest sorted itself out. Release a whole bunch of things for free in fairly quick succession, then at the end of it put a price tag on the last one. It was a lot of extra work, but the results feel very much worth it."
Our Chris Donlan was entranced by The Stanley Parable's HD Remix. "Familiar but consistently surprising, this new Parable even fits beautifully into the existing game - a game that took its power not from a single narrative but the interaction of all its possible narratives, super-positioned and entangled," he wrote in his The Stanley Parable review.