The seven treasures of Ultimate Play the Game
Trophy hunter.
"How did you track me down? Can you give me more information?"
David Westland has every right to be hesitant. I've just emailed him, out of the blue, to ask about a unique competition prize that he won back in 1984, when he was aged 11. The competition was a collaboration between two mainstays of the ZX Spectrum scene: must-read magazine Crash and renowned developer Ultimate Play the Game. To promote its latest release, Sabre Wulf, Ultimate co-founder Tim Stamper created a special metal amulet which Crash gave away as the top prize in a competition to design the best-looking map of the game. David, his older brother Steven and friend Ian Statham submitted the winning map and the trio were invited to Crash HQ in Ludlow to collect their prize from the mag's art editor Oli Frey.
I reply to David, telling him that thanks to the winners' details printed in Crash, only a little amateur sleuthing was required to reveal his contact details. I suggest there might be an interesting story behind the competition and the amulet, particularly as Ultimate was one of the UK's most enigmatic software houses. I also reassure him that I'm not a crazy person.
"You'll understand my nervousness when you realise the amulet was cursed and brought our family nothing but pain and misery from the time it arrived to the day we destroyed it," he quips. "Actually, Ian kept it. And unfortunately, he and my brother lost contact many years ago."
David may no longer have the amulet, but he has memories of the competition. "The map we produced was enormous. About 8ft by 6ft I would estimate. We realised that the Sabre Wulf maze was made up of a number of repeated segments, so we drew out the individual sections, photocopied them - yes, in black and white - and then hand coloured each one before tiling it all together like a huge wall-hanging mosaic. I hadn't thought about the amulet for well over 30 years until the other day when it popped into my head while discussing 80s culture with a colleague. It's so strange that it came up in conversation a few days before you contacted me. If it hadn't I probably wouldn't have even spotted your email. It obviously wants to be found."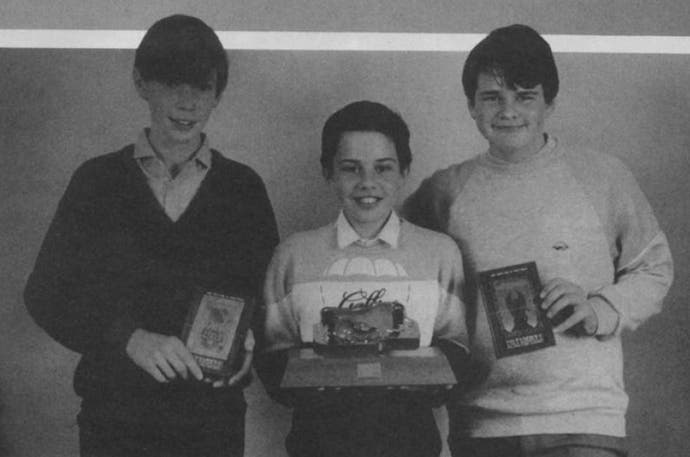 That may be the case, but your correspondent's sleuthing hasn't managed to track down Ian. It's a similar case for some of the other winners, as the Sabre Wulf amulet was one of seven trophies that Ultimate crafted for map-making competitions. For Atic Atac it created a 14in high golden key that was won by 14-year-old Malcolm Berry from Essex. Then there was a wizard's cauldron for Knight Lore, claimed by Calum and Graham Thomson of Dunbartonshire, and a pickaxe and shovel doohicky for Underwurlde, awarded to Damon Butler and M Triggs from West Yorkshire. Despite some good leads, I've been unable to locate any of them. Maybe David was right and a curse is at work.
The news is better for the next trophy - the robot from Alien 8 - which was won by a certain William Overton. Wil was already on my contact list, as he went on to work for Future Publishing, making a name for himself illustrating those manga-inspired Super Play and N64 Magazine covers, and later landed a job at Rare (which of course evolved from Ultimate).
For the Alien 8 competition, Crash added a new rule - maps could be no larger than 75cm by 55cm. This was due to the entries becoming bigger and more elaborate (the winning Underwurlde map was more like a mural, measuring 5.5m by 2.5m). Therefore it required some skill to depict all of the game's 129 rooms while maintaining the required level of detail. Wil says: "It was two or three days of sitting on my bed with an A2 illustration board, a long ruler, a set square and my trusty Rotring technical pens that my parents had bought me. I'd spent weeks mapping out the game beforehand and had the game running most of the time to check I'd got things right but I never did rough out the whole of the final piece. It was quite the revelation to find out that the map was in the shape of a spaceship when you saw all the screens together. I just made up the stuff around the edges of the map as I went along."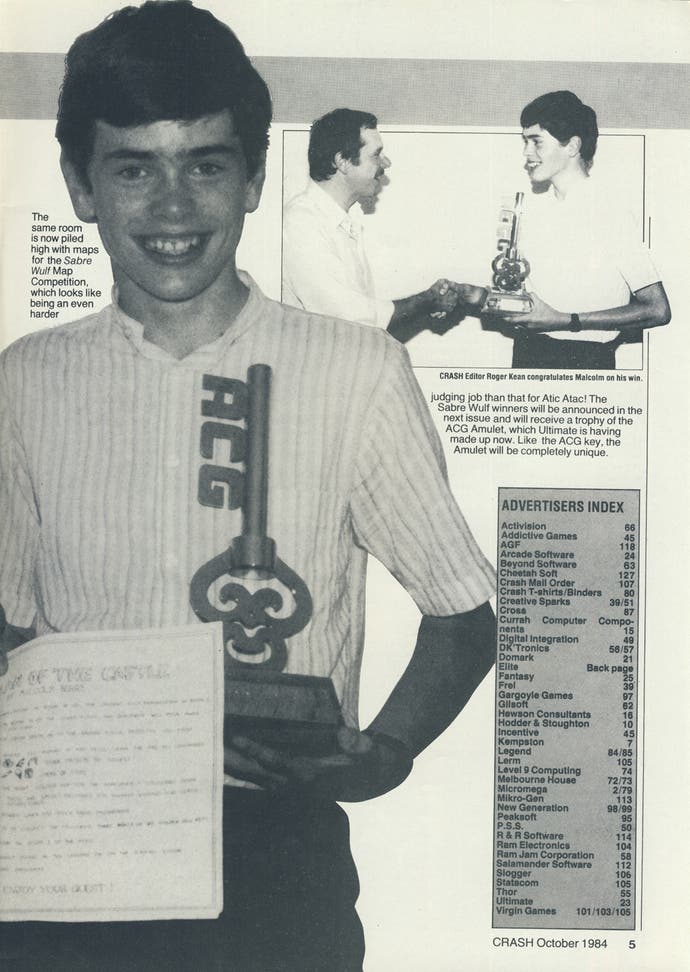 Usually Oli Frey would illustrate maps for the magazine based on the entries, but for Alien 8, Wil's winning map was good enough to drop straight in. "I don't think they changed a thing," he reveals. "The original was just black and white and I guess they thought it needed a bit of colour. I didn't know that I'd won until I picked up the issue from the newsagent and saw that they'd used my map rather than get Oli to do his own version. I guess I saved him a few days' work! A week or so later a giant box turned up full of packing peanuts, the artwork and my trophy.
Wil still has the trophy of course. He grew up playing Ultimate games on his Spectrum, and later worked at Rare, so wasn't going to part with such an amazing one-off. Well 'one-off' is what he thought. "I remember on my first day at Rare coming across some of the trophies on a windowsill. I then realised that they'd had two of each one made."
Stop. This is a bit like the scene in Monty Python and the Holy Grail where the French soldier tells King Arthur that they're not interested in joining the quest for the Holy Grail as they've "already got one". It does seem obvious though that if Tim Stamper went to the effort of immortalising his creations in metal, he'd bag one of each for himself.
"Later the trophies made their way to the boardroom," continues Wil, "and I'd always note that my robot was in much better condition than his Rare counterpart. I never did talk to either Tim or Chris about them, or Ultimate in general, which is something I regret, but they were always more focussed on looking forwards than reminiscing about the past. The trophies all disappeared when the Stampers left after the Microsoft buyout, but I did let Tim know that mine was still alive and kicking when he posted a photo of his twin on Twitter a few years back."
In that Twitter exchange, Tim confirmed that two (and only two) of each trophy had been made, and that the arms of his Alien 8 robot had fallen off as so many people had "shaken his hand" when it was on display at Rare. He later shared a photo of his Knight Lore cauldron which appeared in better condition.
Alien 8 was the last game to have a trophy created for a Crash competition, which meant that later titles like Nightshade and Pentagram missed out. But Ultimate also released six exclusive games for the Commodore 64, of which four were graphic adventures starring Sir Arthur Pendragon. Tim Stamper designed a trophy for the first two of these: The Staff of Karnath and Entombed.
Ultimate obviously had a good relationship with Crash publisher Newsfield, yet Karnath was released in December 1984 and was therefore BZ (Before Zzap!64). So Ultimate instead teamed up with multi-format mag Personal Computer Games to run a competition to win a trophy of the titular staff. As the game was more puzzle-based than Ultimate's other adventures, entrants was asked to submit both a map and a playing guide. Unfortunately PCG closed down one month later, but its editor Chris Anderson then joined Newsfield to launch Zzap!64 and brought the competition over with him. This meant that the lucky winners - Lee Goldstone and Matt Porter from Kent - were announced in the debut issue of Zzap!64 in May 1985.
"Matt and I both played and solved the game," Lee tells me. "I drew the map in pencil and Matt wrote the guide. PCG then folded not long after we sent in our entry so we thought that all our efforts had gone to waste. Then out of the blue I was contacted by someone starting up this new mag, Zzap!64, saying that they were going to honour the competition. Along with the trophy we received copies of some games reviewed in that first issue."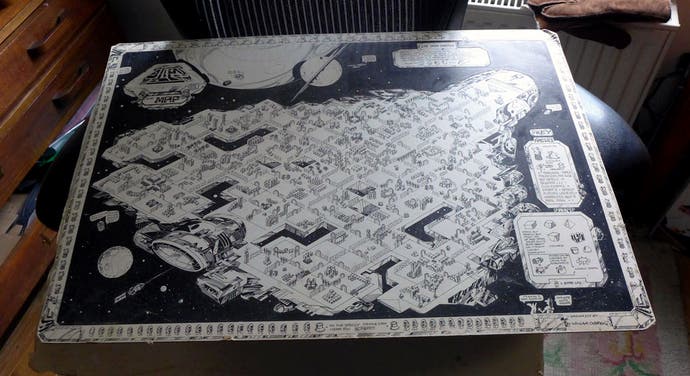 No doubt the games were divvied up, but how did the pair split the trophy? "Myself and Lee used to share it," says Matt. "But I've have not seen the trophy for more than 30 years now. I'm not sure at which point the swap stopped. It was probably after the trophy almost melted, over one hot summer spent on my parents' windowsill. Perhaps because of the exceptional heat, possibly as a silent protest to Blackwyche. Either way, I've lost track as to the reason."
Matt would go on to work for Argonaut and SCE Studio Cambridge, and earn programming credits on Croc and 24: The Game. I wondered if the competition had played any part in his career direction. "Not so much winning the competition, more the act of just playing the game. Karnath was actually a Christmas present that I secretly opened early and hammered to death before the 25th. It was amazing for the time - the promise of so much to discover if you were prepared to put the effort in. The work of Ultimate was very influential in my career path, alongside Jeff Minter and Matthew Smith. I experienced first-hand the way games could connect with an audience, and wanted an opportunity to provide that."
For the Entombed competition the question of sharing the prize was even more of a headache, as it was won by a team of seven hailing from Hertfordshire. "I got to keep it because I'd drawn the winning map," reveals Ed Bradley. "I don't remember the discussions on this being particularly strenuous because I'd spent a bit of money making our entry nice and high quality."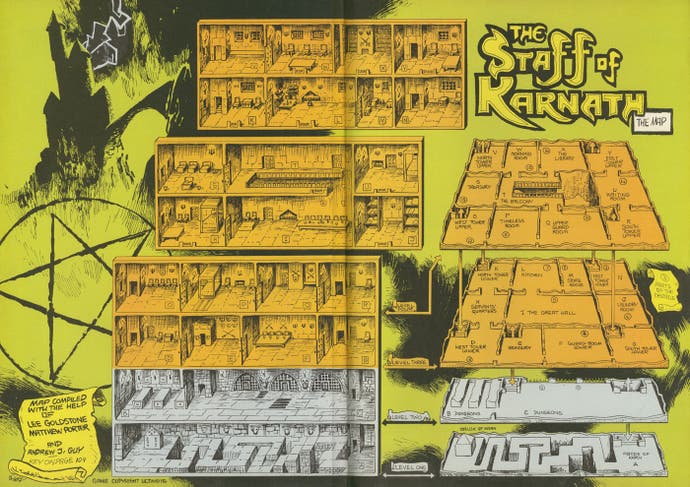 Unfortunately the winning map never appeared in the magazine. In fact, the actual trophy itself was not shown or even described, suggesting that the buzz around these competitions had died away. With the early ones Crash would devote pages and pages to them, over multiple issues, but by the time Entombed came around it had dropped to a few column inches. Perhaps unsurprisingly, it was the last such competition to be held.
As for the trophy, anyone who's familiar with Entombed will probably guess that it was Egyptian themed. "The trophy was a brass obelisk with hieroglyphics on it," Ed confirms. "It's about a foot tall. I still have it. I'll clean it up and send a photo." The resulting photo shows another wonderful design, along with three names engraved onto the plinth: Robert Jones, Edward Bradley and Bazza Smart. "We eventually received the trophy by post. It only had Bob's name on it originally as he was the one who badgered Zzap!64 by phone to get it sent to us. We had a local jeweller add the other two names - mine because I drew the map and Bazza because it was his C64 that we used."
Of the seven Ultimate trophies, that's three located and four currently unaccounted for (discounting Tim Stamper's own set, of course). If this was an episode of Antiques Roadshow, now would be the point where the crowd cranes forward and a valuation is offered. Ultimate games and memorabilia are like catnip for collectors, and in recent years sealed copies of Knight Lore and Nightshade for the Spectrum have fetched north of £300 at online auction. A collector would easily match that amount, should one of these trophies ever come up for sale, and potentially double it. But as all the pieces are unique it could be much higher. I'd imagine the Sabre Wulf and Knight Lore trophies would fetch the most, as they're two of the firm's most iconic titles.
That said, none of the owners I spoke to would entertain the idea of cashing in. "I've been asked a few times over the years whether I'd sell the artwork or the trophy," says Wil Overton. "But I've been caught out before with old games that I've since regretted selling. At least, there, I could re-buy them. Not sure where I'd find another brass Alien 8 robot. So no, they're both staying with me."
"I still have the Karnath trophy on display," says Lee Goldstone. "I've been approached by collectors in the past, but I haven't sold it and indeed never would. I'm sure Matt would agree."
Ed Bradley feels the same about his Entombed obelisk. "Nobody has ever expressed any interest in buying it. In any case, I doubt anyone would offer enough money to overcome the sentimental value."