The Path
As far off the beaten one as you can imagine.
And then there's the final dream-walk through the house. You're on a single track, and any interaction with the controls makes you take another step along this delirious route. If you don't, the screen slowly fades to black and growling rises... and I've never actually been brave enough to just leave it to see what happens. These sections are, for me, one of the finest formalist parts of the game - that step-to-move captures how you feel when you're actually dreaming. Running through houses, knowing something's behind you, trying to escape, knowing you're on a track, trapped...
It's not the only place where interaction is reduced for an aesthetic effect - though generally speaking, they're less successful. For example, to interact with anything in the game, you release the controls, and then the girl will wander over and have a nose at whatever's nearby. To interact, you stop interacting. I more admire the elegance of that control system than its obvious deconstruction. The one total mis-step is removing the run option when you're near an important location, forcing you walk around. It actually discourages you from exploring these locations as it takes so long to do. The most interesting parts of the game - this misty lake, this abandoned play-park, this massive stage - find their effect slightly neutered.
The stars of the game are the girls. From their visual design, to their animations, to the one-liners they respond with to whatever they find, each is well characterised and memorable. They live and they die and we know them better for that. Replaying the game for a second time, actively seeing what each girl makes of a place an earlier sister went to is part of the... fun? No, fun's not the word. But the interest. To see what happens. To explore.
(Oblique comparison: the game that The Path most reminds me of is actually Endless Ocean, with its stately pace. With a flash of Silent Hill at its most cerebral. And slowest.)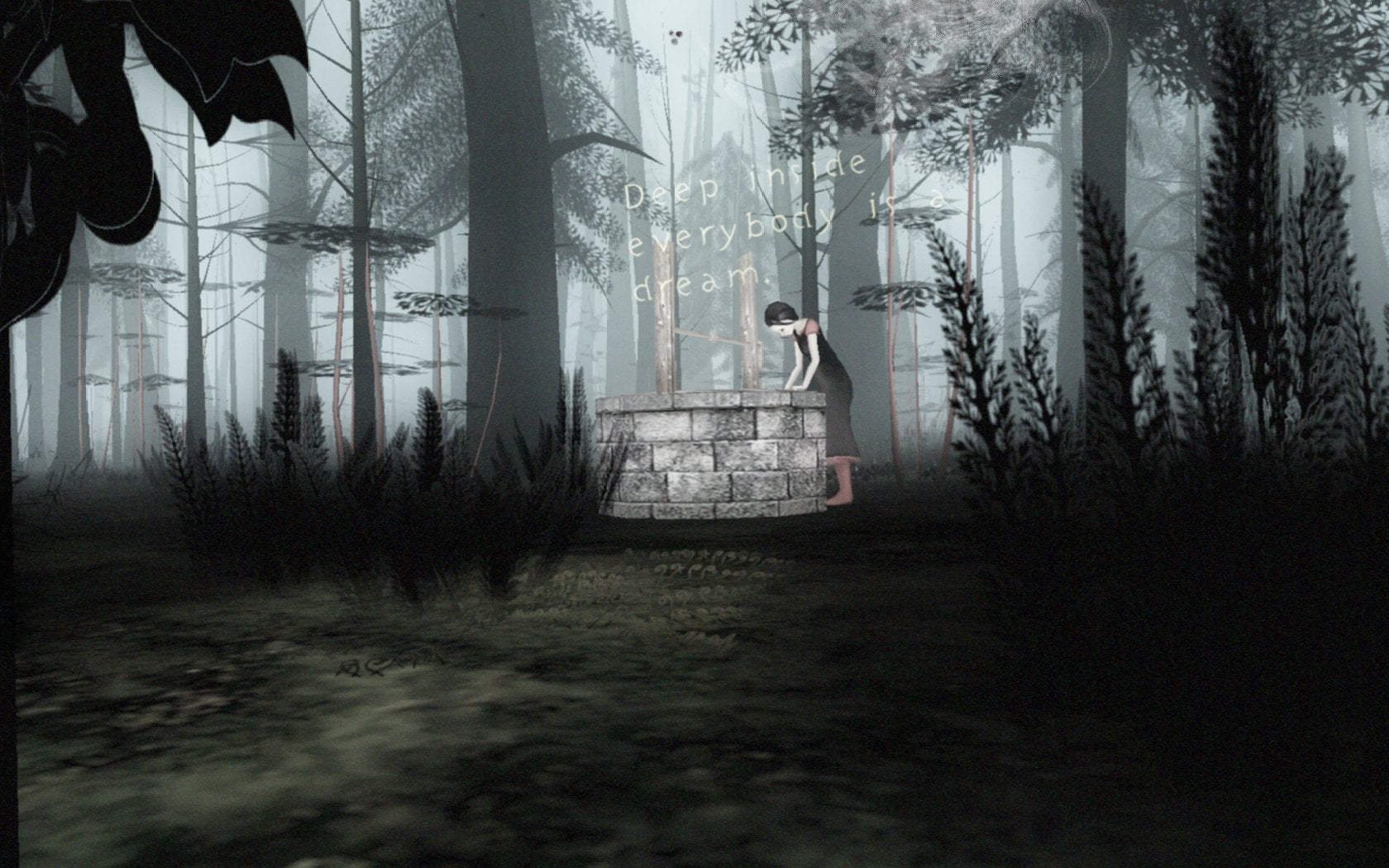 If you put aside its pace - which is its point - the biggest reservations with it are how it both introduces itself to you and how it uses its game elements. The irony of the end-of-game screen undercuts somewhat callously any affection you had for the girls, for example. When it clicks, the UI is obvious - icons towards the periphery guiding you towards interesting locations - but when a game throws as many visual distortions over itself, it's easy to miss their importance. There's some minor twitchiness around some of the characters - like the mysterious girl in white occasionally running into trees or appearing, which cuts the atmosphere for a second.
The mysterious little girl? I haven't mentioned her yet. I'm not going to mention her any further. The problem with The Path is that to explain it is to ruin it. It's an exploratory game, and being surprised by the first time you see something, and wondering what it's for and what it's about is the main thing. The game rarely spells anything out. You spend a lot of time bemused - sometimes in a good way, sometimes in a bad - and wondering what it's about.
I'll say this: you'll have a strong opinion on it if you play it. Friend-of-Eurogamer John Walker was profoundly disturbed by its portrayal of teenage years as doomed fatalists. Others have come claiming it's a rape simulator - which, for the record, I consider unsupportable by the game, even if you take everything on a solely literal level. It is, at worse, a being raped simulator - though I'd say that was a misreading too. What do I think? Metaphorical story of one girl's growth to adulthood, with the "death" of each girl leading to the birth of the next. But that's an essay. I don't know for sure. If you play it, you'll have your take. That's kind of the point too. It sticks with you and provokes thought. It's probably art, if the a-word matters to you.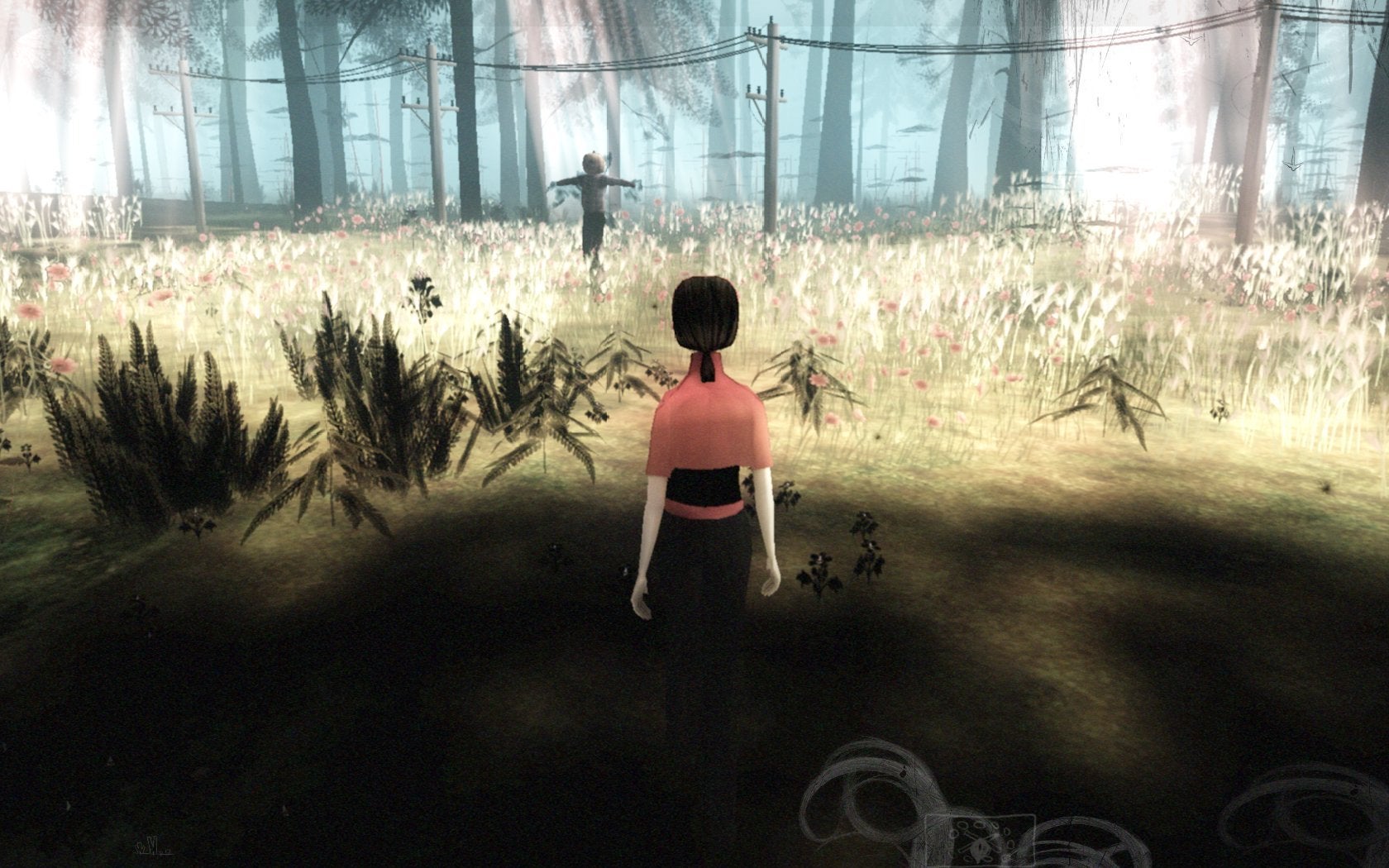 It's totally no fun. It's interesting, but there isn't a fun bone in its mopey body. But I've paid to go into modern art galleries. I've paid for really oddball, minimalist art films. I've gone to gigs where music is divorced from any physical reaction and raised to some cerebral, abstract place - and plenty of gigs where most sane human beings would consider there was nothing actually musical going on. I haven't, but could pay for experimental theatre tickets. Lots of poetry. Whatever.
In our corner of the world, the thing with close-to-pure art-games... well, they're all pretty much free and buried away on the internet. The Path is on one of the biggest game distribution systems in the world, for a reasonable yet "proper" price, and still does what it does. Its existence is a statement of belief that, like any other media, there's a small niche of people who are happy to actually pay for this kind of cultural material.
That's who the Path is for. And if you're one of them, The Path is probably worth it.
If you're not, really, run for your bloody life.
Will you support Eurogamer?
We want to make Eurogamer better, and that means better for our readers - not for algorithms. You can help! Become a supporter of Eurogamer and you can view the site completely ad-free, as well as gaining exclusive access to articles, podcasts and conversations that will bring you closer to the team, the stories, and the games we all love. Subscriptions start at £3.99 / $4.99 per month.