The Nintendo Switch and Animal Crossing bundle is reduced again if you missed it on Prime Day
Switch to a better way of life.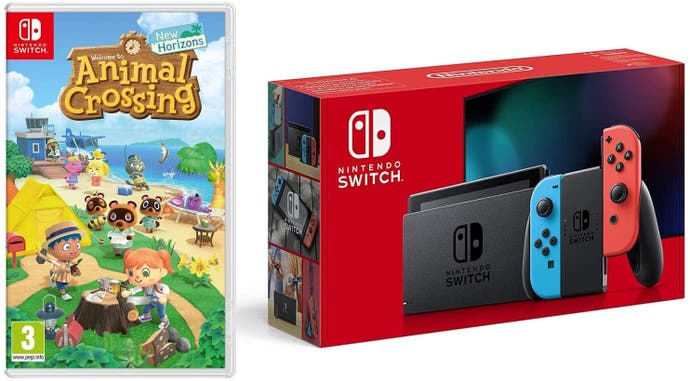 Update: Seems this bundle was popular enough to sell out once again. Now, your next best options are a Nintendo Switch with Just Dance 2020 for £299 or one with Mario Kart 8 Deluxe for £309. Or, there's special Nintendo Switch Fortnite Edition, which is due for release on 30th October.
---
Original story: The Nintendo Switch, bundled with 2020 smash hit Animal Crossing: New Horizons, is currently on sale over at Amazon UK after being reduced for Amazon Prime Day. The high-demand console is being sold with one of its biggest games for a very respectable £299. That's £20 under the normal price, a very good discount for those who've been looking to buy the two items and get a head start on this year's Nintendo Switch Black Friday deals.
And yes, this discount applies to both the Grey and Neon Red/Blue Switch models, giving you a bit of choice on how toyboxy you like your consoles looking. Go with the brightly-coloured Joy-Cons to bring out your inner child, or select the functional grey controllers of adequacy for a more moderate experience.
After all, it's not like Animal Crossing won't provide all the colour you need. New Horizons holds Eurogamer's highest possible review accolade, labelled as "Essential" for its charm, its spirit, and its dependable, lovable rhythm. It's an endearing, enduring game that'll entertain you for weeks and leave you in love with its bobble-headed inhabitants.
Of course, there's plenty more options for Switch enthusiasts and prospective buyers. You can find every other good bargain right here at our Switch deals page, or check out our sister site, Jelly Deals, for more discounts and deals than you can imagine. Or why not head to the Jelly Deals Twitter and give us a follow, for up-to-the-moment info on all the best offers across the internet!