The new Worms gets loads of video game guest stars
Rocket League! Perfect Dark! Team Fortress 2! More!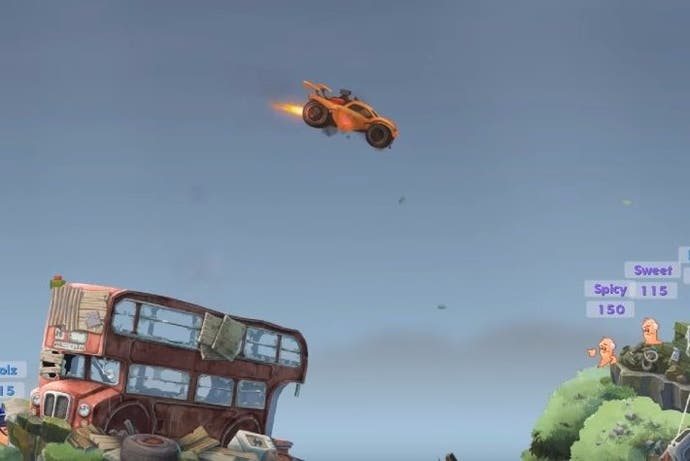 The next Worms game includes guest stars from a raft of video games as pre-order bonuses.
Worms W.M.D has guest stars from Rocket League, Payday 2, Saints Row 4 and even Goat Simulator. But to get them you have to pre-order the game.
Rocket League brings a tank and the Octane Battle-Car. From the world of Goat Simulator comes the Goat-on-a-Rope weapon. The Payday 2 crossover lets you dress your worms up in the masks from the multiplayer shooter. And Saints Row 4's Dubstep gun is now a worms weapon. It makes worms dance.
Other crossovers include Yooka-Laylee. You can dress up your worms in the Yooka-Laylee seven mask set, including Trouser Snake. Other outfits are lifted from Unturned, Broforce, Orcs Must Die! Unchained, The Escapists and Classic Worms.
Here's a cool one: the Xbox One version has the exclusive Rare All-Stars. Perfect Dark's Joanna Dark can be used as a weapon, and there are masks from Blast Corps, Jet Force Gemini, Jetpac, Killer Instinct and Battletoads. You can see all the Rare stuff in the video, below.
The Steam version has a Team Fortress 2 crossover, with the Sentry Gun weapon and nine mask set, featuring the full TF2 crew of Pyro, Demoman, Medic, Spy, Soldier, Scout, Sniper, Heavy and Engineer.