The Limited Animal Crossing Edition of the Nintendo Switch is back in stock
Fancy an island holiday in the middle of winter?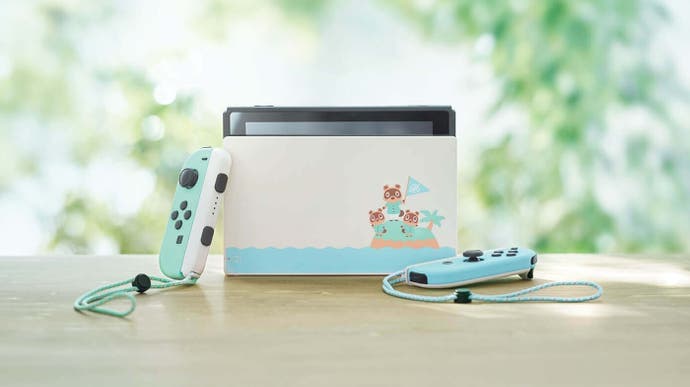 After disappearing early on and being almost permanently out of stock ever since, the Limited Edition Animal Crossing Nintendo Switch is back, with preorders now live on the Nintendo Store for people to claim their copy.
The actual consoles themselves will be sent out on 9th December 2020, but considering the high demand Nintendo clearly decided to start preorders now, with limits of 1-2 orders per customer depending on what bundle you buy.
All of these various bundles guarantee you a digital code to download New Horizons and a special model of the Switch, which sports ocean pastel colours and a picture of Tom Nook and his two minions battling for space on two square meters of land. It's certainly a nice midpoint between the starkly-garish Neon Red/Blue Switch and the please-don't-make-me-put-in-effort-grey model, as the Joy-Cons are also a gentle green and blue colour, just to keep the theme going. Aside from that, different bundles will get you a protective carry case for your Switch, three months of online membership so you can visit other friends' islands, or even a copy of Mario Kart 8 Deluxe, just in case you want to ruin all those friendships afterwards with some merciless kart racing.
There's plenty more deals happening here at Eurogamer! Check out where to get Battlefield 3 for free here, or find out where other Switch games are low on price here! Or you can just head to the Jelly Deals Twitter and follow us for quick info on deals everywhere!