The King of Fighters XII
Feels more like the Duke.
The Blow Back Attack, however, offers slightly more versatility. By pressing both heavies you can knock the opponent clean off their feet, and as this can often be done mid-combo, is a useful tool for certain characters to cancel into their supers. But the Blow Back Attack can also be charged. A full charge will crumple the opponent, making them fall defencelessly to their knees, giving the player a brief window to dish out some punishment. It's similar to the Focus Attack in Street Fighter IV, but without the ability to absorb a hit it isn't as useful.
Finally, we have the Critical Counter. By doing or taking damage the Critical Counter gauge will gradually fill, and once maxed the player will be put into a Critical Counter state which will last for about 12 seconds. If during this time the player lands a strong punch/kick counter hit, the opponent will be rendered immobile for about three seconds allowing the player to bash out a custom combo. Normal attacks do less damage during a Critical Counter but they can be connected in rapid succession and without knocking the opponent back. By ending a Critical Counter with a super it's possible for a skilled player to punish a mistake with a devastating 20+ hit combo.
Despite some interesting (if not massively original) mechanics, there are elements to XII which feel disappointingly regressive. As a series that has always been about picking a team of three fighters, rather than the more lonely one-on-one bouts of Street Fighter II, it was a welcome addition when The King of Fighters 2003 and XI included the Shift system - allowing players to tag out mid-match as had been popularised with the Marvel vs. Capcom series. But for XII, SNK has brought back the old "take it in turns" system. Players pick their three fighters, choose the order they fight in and then battle till either side is completely annihilated. Classic it may be, but a team battle without a tag system feels like a wasted opportunity.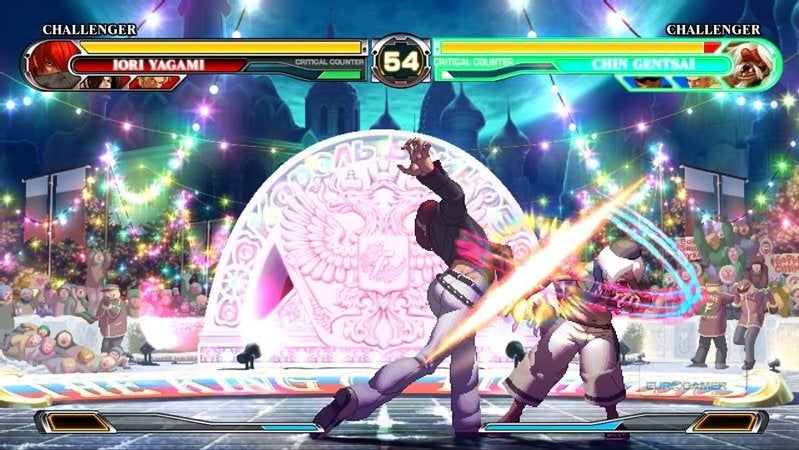 Elsewhere, the character move-lists feel more sparse than usual. King of Taekwondo Kim Kaphwan has completely lost his Ryuusei Raku charge attack - no longer able to slide across the ground for an overhead kick. With only four special attacks, two less than in XI, Kim isn't even able to perform a follow-up hit after his rip-off of Guile's Flash Kick. This isn't an isolated case as other characters have been watered down too. Terry has the Power Wave and Crack Shoot... but no Power Dunk? Also, Iori Yagami players beware as the Orochi demon has no projectile attacks and now plays quite differently.
Having played BlazBlue I was impressed by how much Arc System had gone above and beyond with all the added extras. By comparison, it seems SNK has tried to scrape by with the bare minimum. What is labelled as the arcade mode actually turns out to be a five-stage time trial. You pick your three fighters and then face off against five other teams before... no wait, that's it. There isn't even a masochistically hard boss to fight, just a few brief cut-scenes featuring some generic news reporters and terrible voice acting. It seems SNK has made this into a "Dream Match" like '98 and 2002, so apart from the usual dodgy win quotes, the narrative is all but absent.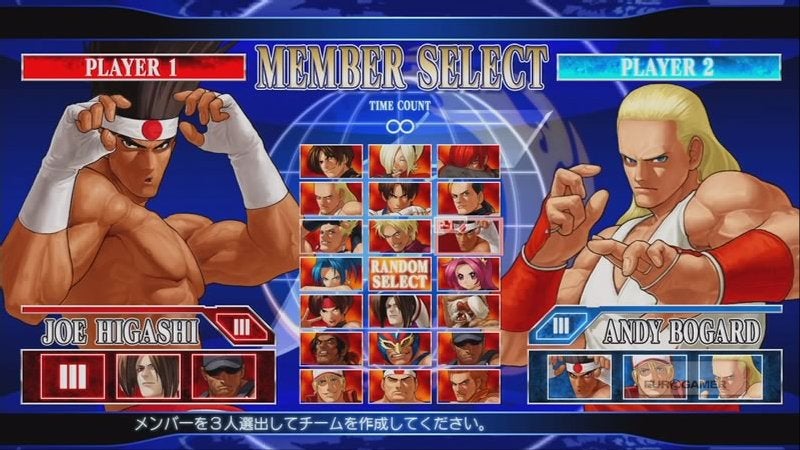 Outside of arcade mode we get versus, practice, replay and gallery. How hard would it have been to at least include a survival mode? Thankfully SNK didn't leave out an online mode but the PlayStation Network netcode is pretty horrendous - even after downloading a compulsory 772MB patch. I managed to have one playable game against another European after creating a room called "euro_noobs", but against anyone from America the lag is generally so crippling it's like fighting in treacle. It's a real shame as, although the matchmaking options are pretty basic, the ability to create your own clan and have three-on-three battles sounds appealing.
The biggest problem with The King of Fighters XII is that it feels unfinished. The combat is fun and robust but not particularly innovative. The Critical Counter system feels like an afterthought and doesn't really compare favourably to Street Fighter IV's Focus Attack or BlazBlue's Drive System. Also, whether because of time constraints or an attempt at accessibility, many of the characters feel a tad diluted. So with Capcom offering more accessibility and Arc System more innovation, it would be hard to recommend XII to casual or hardcore fighter fans that might only have time for one game. It'll be interesting to see what SNK can achieve with a little more time. "Are you okkkayyyy!?!" Yes, but you could've done better mister wolf.
Will you support Eurogamer?
We want to make Eurogamer better, and that means better for our readers - not for algorithms. You can help! Become a supporter of Eurogamer and you can view the site completely ad-free, as well as gaining exclusive access to articles, podcasts and conversations that will bring you closer to the team, the stories, and the games we all love. Subscriptions start at £3.99 / $4.99 per month.