The Eurogamer Podcast #26 - The return of the Velvet Owl
What a hoot.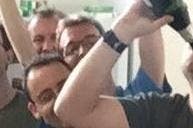 Oh listen, you know how we never have guests? We have a guest! And listeners to the Golden Era of Eurogamer podcasts - by way of clarity, the current era is the Uranium Era - may recognise Will Porter, also known as The Velvet Owl, also known as the man who's written for video games including but not limited to Alien: Isolation, Need for Speed Shift 2, and No Man's Sky. Also, he used to write for Eurogamer. And some magazines.
Will's here to talk about his work writing games, and about the Nintendo Switch, which you may have noticed now has a price and a release date and a lot of peripherals. We get into all of that, and then I explain the wonders of Mystery Diners. And we talk a bit about the Guardian's Blind Date column. And a bit about Clive James. And an imaginary Nintendo console that you can only play around corners. Frankly, I'm a bit of a liability.
Also also we conclude our exciting giveaway, and pick over some truly wonderful submissions. And there are questions! What a time to be alive?
Rather listen on iTunes, would you? Go on then.
Here's the RSS feed, which some of you claim is very important.
Or, if you'd like to get in touch, send us an email here: podcast@eurogamer.net