The Eurogamer Podcast #15: A week with PlayStation VR
Asking the big questions, like: "Is PSVR the coolest-looking headset?"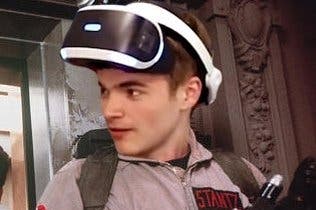 Alright, Donlan's not in today, so I'm writing the bit that goes along with this podcast. Incredibly, he's gone to Disneyland for the week, as that's the sort of ridiculous, whimsical life he leads.
Anyway, in an effort to ensure we meet our weekly quota (happy now, Kosigan?!), we recorded today's episode on Friday and had a big ol' chat about PlayStation VR. We can't talk about the entire catalogue of launch games just yet, as there's a second embargo that lifts tomorrow, but we've played a few things that we rather like. TumbleVR and the Arkham Batman experience, in particular, stand out.
Back in the world of normal video games that don't require you to strap something to your face, Christian has been playing Slayer Shock, which sounds like Buffy the Vampire Slayer: The Video Game, whilst I've inevitably returned to the wonderful World of Warcraft.
Enjoy!
You'd rather listen on iTunes? Alright, here you go.
And if you'd like to get in touch, perhaps with a nice question for next week's episode, you can send us an electronic mail: podcast@eurogamer.net