The Escapists is getting desert island spin-off The Survivalists next year
And it's coming to Switch, PS4, Xbox One, and PC.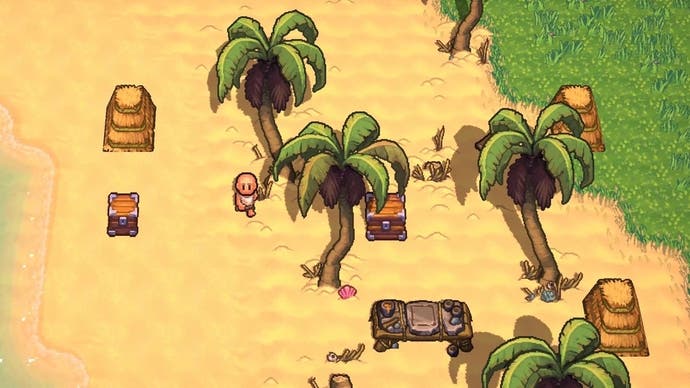 Team 17's prison break sandbox sim The Escapists is getting a desert-island-themed spin-off next year. It's called the Survivalists and it's coming to Switch, Xbox One, PC, and PS4.
The Survivalists (which is apparently set in the same universe as The Escapists) unfolds across a procedurally generated wilderness consisting of various biomes. Survival, as you might well imagine, is the order of the day and up to four players can work together - either locally or online - to craft and build their way to success.
According to Team 17, there's a day and night cycle to contend with, animals to hunt (or flee from) and locals who might not be all that friendly. The bulk of the action appears to take the form of resource gathering, which can then be used to craft helpful items - ranging from primitive tools to fruit smoothies - and to build useful structures.
There are quests to be completed, either handed out by a Mysterious Stranger or washed ashore, and players can get assistance from the local monkey population by training them up as builders, lumberjacks, soldiers, and more. Additionally, some especially exotic treasures can be found by exploring forgotten temples and tackling the dangers within.
You can get a early look at The Survivalists in its announcement trailer above, and the final game is expected to land on Switch, Xbox One, PC, and PS4 some time next year.