The Elder Scrolls Online's Thieves Guild DLC dated for March
New video details upcoming expansion.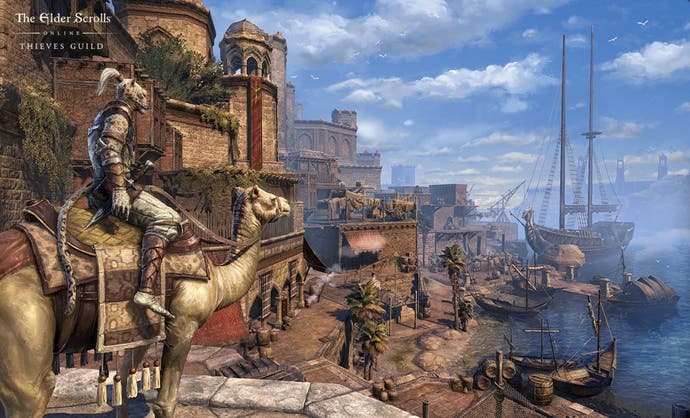 The Elder Scrolls Online: Tamriel Unlimited's upcoming DLC pack, the Thieves Guild, is due on the public test servers next week and launches on 7th March for PC, 22nd March for Xbox One and 23rd March for PS4.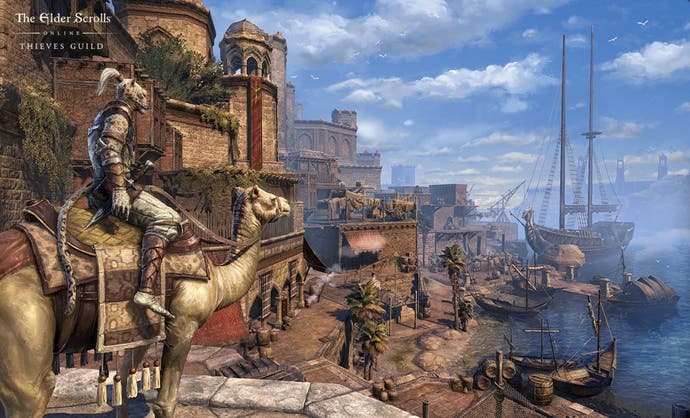 The Thieves Guild expansion is set in a peninsula called Hew's Bane and adds never before seen Hammerfell locations like Abah's Bane, home of the Thieves Guild, which publisher Bethesda described as "one of the most elaborate cities in The Elder Scroll Online."
This DLC will bring hours of story content, along with new stealth mechanics as you loot houses, go on heists and pickpocket your unsuspecting marks. There will even be an all new skill tree to accommodate this sneaky way of life.
Furthermore, this expansion will add a new 12-player trial called the Maw of Lorkhai. "Breach the gates of an ancient Khajiiti shrine, and confront the ghostly legions of Namiira in eerie lamp-lit corridors - complete with ruthless new enemies - terrifying bosses, and a wealth of treasure from the depths of Oblivion," Bethesda said of this upcoming adventure.
The add-on will cost 2000 crowns in the ESO Crown Store, though it will be free for anyone with an active ESO Plus membership.
For more on the Thieves Guild, you an check out Bethesda's in-depth round-up or watch creative director Rich Lambert give an overview of what this upcoming expansion adds in the following video: