The Elder Scrolls 5: Skyrim remaster announced
UPDATE: Saves will transfer on PC. Special Edition a free upgrade if you own all DLC or Legendary Edition on Steam.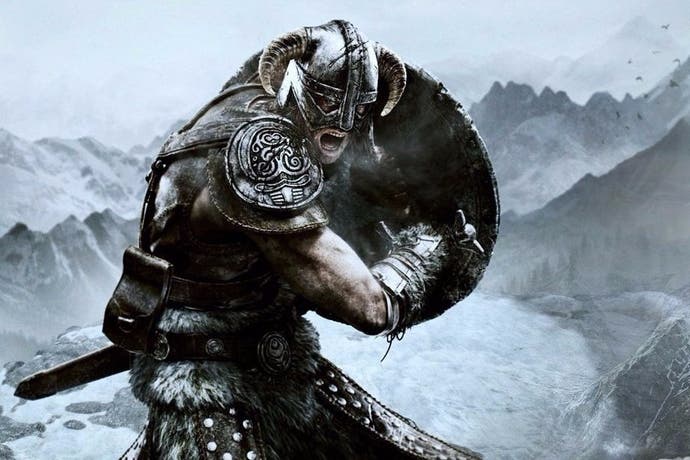 UPDATE 2: It's confirmed that saves will transfer between vanilla Skyrim and Skyrim: Special Edition on PC.
Bethesda VP of PR and marketing Pete Hines confirmed the following on Twitter:
Chatting w Todd just now, able to confirm on Skyrim SE for PC:
64-bit
Saves should transfer
Separate creation kit to upload mods to Bnet

— Pete Hines (@DCDeacon) June 15, 2016
UPDATE: Bethesda has announced that if you own Skyrim on Steam and all its downloadable content, or if you own the Legendary Edition, you'll be upgraded to the Special Edition for free.
If you own #Skyrim and all its add-ons or own Legendary Edition on Steam, you'll get a free upgrade to Skyrim Special Edition on Oct 28 #BE3

— Bethesda Game Studios (@BethesdaStudios) June 13, 2016
ORIGINAL STORY: The Elder Scrolls 5: Skyrim remaster, AKA Skyrim Special Edition, is official and it's coming to PC, PlayStation 4 and Xbox One on 28th October.
Most notably for console players the Skyrim remaster introduces mod support, and like Fallout 4 this will involve Bethesda cherry-picking mods for release. There were 14 mods pictured in the trailer and they included Cow Armor, Cats! and More Chickens. See - this is what you've been missing! But is the Cow Armor mod even real or just a Bethesda in-joke? I can't seem to find it for PC.
These were the mods listed in the trailer:
More Adoptable Children
Cow Armor
Helgen 2.0
Giant Follower
More Spells
Friendly Dragons
Bandit Quests
More Chickens
Faster Wood Chopping
Cats!
Ninroot Farm
More Elven Weapons
Armors for Children
More Civil War Battles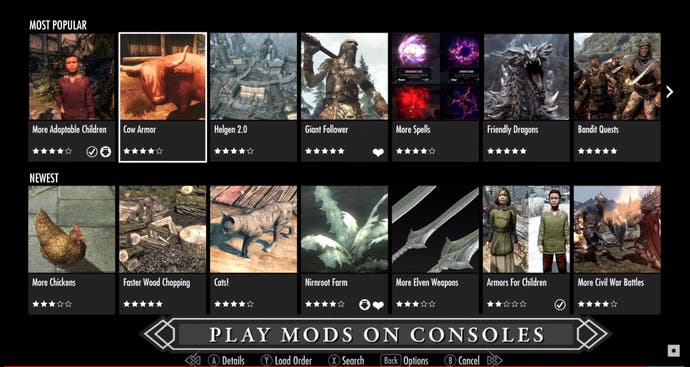 The game will also be tarted up with new graphical effects such as remastered art and effects, volumetric god rays, dynamic depth of field, screen space reflections, new snow shaders and new water shaders. It makes an impressive difference as the trailer below shows.
You can see what else Bethesda and other publishers announced at the show this year with our E3 schedule guide.