The Cyberpunk 2077 refund situation is a mess of mixed messages
Chance to hit.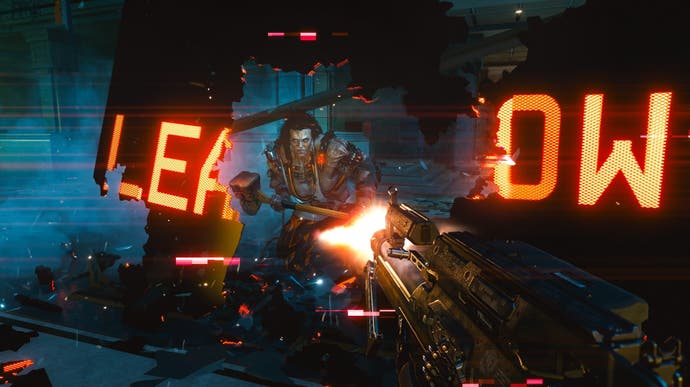 The Cyberpunk 2077 refund situation is a mess today after developer CD Projekt's high-profile statement that suggested customers could get their money back.
Yesterday, in its statement apologising for not showing Cyberpunk 2077 on PlayStation 4 and Xbox One before launch, CD Projekt told customers who were not pleased with Cyberpunk 2077 on console and didn't want to wait for updates: "you can opt to refund your copy." But it turns out some shops aren't playing ball - and have not changed their refund policies for the controversial blockbuster.
CD Projekt pointed customers to Sony and Microsoft for refunds on digital copies of the game. But how does it actually work? Sony says if you have started to download or stream purchased content, you will not be eligible for a refund unless the content is faulty.
I've seen mixed results from customers trying to get a refund out of Sony. While there are reports of success, one customer contacted Eurogamer last night to say they had been through live chat and, after being refused a refund there, spoke to a PlayStation customer service rep on the phone and was still refused a refund.
Microsoft's refund policy is a bit less stringent, pointing out most purchases are not eligible for a refund after 14 days. There is a form to fill in, however, if you fancy a go, and it seems customers are, again, having mixed results with this one.
It seems harder to secure a refund when it comes to physical copies of Cyberpunk 2077. GAME store staff are not currently giving out refunds, instead pointing customers to the refund email address CD Projekt included in its statement. When I asked my local GAME store if I could get a refund on the Xbox One version of the game because I considered it to be faulty, a member of staff replied to say no, pointed out updates are coming, and suggested I email CD Projekt.
I spoke to a source at a GAME store who confirmed the policy. Staff are not doing refunds, I was told by the staff member who asked not to be named in order to protect their job. "We've been told to direct people wanting refunds to the CD Project Red email address that was provided," they told me. "The only time we're doing any refunds is if the game is still sealed in the original box. Even then we are only doing exchange or credit note as per our current returns policy."
GAME does have a returns policy for faulty goods. You have to email the company's customer service team, describing the fault, then wait to hear back. Then there's the following line from GAME: "If you wish to exercise your legal right to reject a faulty product you must either return them in person to where you bought them or post them back to us the address below." Despite this note, in-store staff are rejecting refund requests.
Again, it comes down to a question of interpretation: is Cyberpunk 2077 faulty? Some shops may not think so. We've asked GAME for comment.
Igor Cipolletta, boss of ShopTo, told Eurogamer his company is accepting refund requests on Cyberpunk 2077, but only if the customer is willing to pay the cost of shipping. In Europe, boxed copies of Cyberpunk 2077 are distributed by Bandai Namco, and Cipolletta is currently waiting on confirmation from Bandai Namco that it will pay shipping costs on refunds. Until then, customers have to fork out. We've asked Bandai Namco for comment.
What is becoming clear is that CD Projekt's statement referenced existing refund policies - and no exceptions are being made for Cyberpunk 2077.
In an emergency investor relations call last night, CD Projekt's SVP of business development, Michał Nowakowski confirmed as much.
"One has to understand: Microsoft and Sony have refund policies for every product that is released digitally on their storefronts," Nowakowski said.
"Despite several articles I've seen that things are being set up just for us, it's actually not true - these policies are in place and have always been in place; they're not offered specifically for us. Anyone who has purchased any title on the PlayStation Network or the Microsoft storefront can ask for a refund, and if it's made within certain boundaries, usually related to time, usage and so on, can ask for that refund.
"Our procedure here with Microsoft and Sony is not different than with any other title released on any of those storefronts. I want to state that clearly, as there seem to be certain misconceptions."
In CD Projekt's statement issued yesterday, it mentioned an email address customers could use if they were turned down for a refund by a retailer. "We will do our best to help you," the company said. But it is unclear exactly what help CD Projekt can offer here, with refunds ultimately at the behest of customer service staff from shops.
Further muddying the waters, CD Projekt co-founder Marcin Iwiński has now said the company is "not encouraging gamers to return the game".
"We hope they'll give us a chance to improve it on old-gen consoles," he said in the investor call.
"One fix was released last weekend; another one is coming in seven days - but there is an option, obviously, and the easiest way is to ask the retailer for a refund. If that's not possible, we also provide help."
The upshot of all this is that your chances of getting a refund on Cyberpunk 2077 from any company that isn't CD Projekt appear directly related to the amount of time and energy you wish to spend pursuing it. If you're turned down in an online chat, a phone call may do the trick. If a member of staff at a shop says no, then you may be able to send the game back in the post.
No doubt CD Projekt's statement sent shockwaves throughout video game retail yesterday. But, for now, it seems retail is holding fast.