The Crew's upcoming DLC and updates detailed in new trailer
Weather effects, enhanced graphics and DLC coming to current-gen, but not Xbox 360.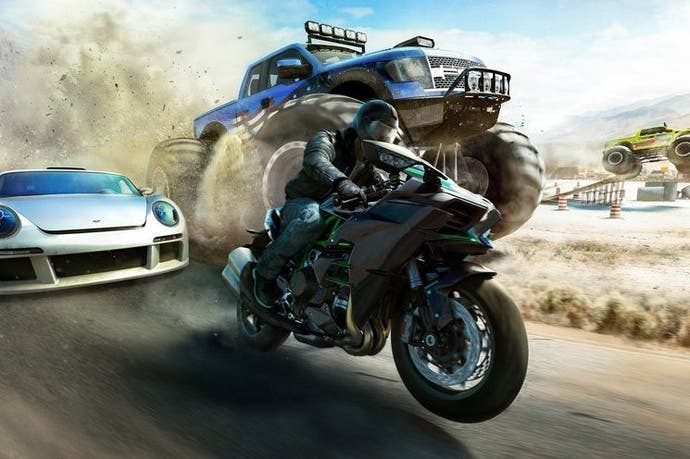 Ubisoft has released a new Gamescom trailer detailing what its open-world "CarPG" The Crew will be getting between its Wild Run expansion and future updates.
First off, Wild Run will add motorbikes to the driving game. There will also be three new car classes with Dragsters, Monster Trucks and Drift Vehicles.
Outside of Wild Run, the core game will be getting dynamic weather effects and enhanced graphics including increased depth of field.
Unfortunately, both Wild Run and the graphics/weather updates won't be coming to the Xbox 360 version of the game, the Crew director Stephane Beley confirmed in an interview with Red Bull.
"Ubisoft is shifting its development force towards new-gen consoles in order to accompany market transition to these new platforms," he said. "Ubisoft has always been a pioneer on new technologies and this decision is consistent with their strategic orientation. Nevertheless, the team will still continue to provide technical support to our current Xbox 360 gamers."
For PS4, Xbox One and PC players, however, Wild Run will launch 17th November.
We were rather fond of The Crew, despite its jankiness, upon its release last December. "A huge part of The Crew's appeal is nostalgia for US road trips, whether previously experienced or just imagined. No game has mined that cultural seam quite so authentically or with such all-encompassing ambition," said Eurogamer contributor and Outside Xbox co-host Mike Channell in his The Crew review.
For more on The Crew, watch Aoife, Oli, Ian and Martin struggle past its launch bugs and discover a good time anyway via an impromptu virtual road trip.