The Crew 2 is finally out in June
Coming to Xbox One, PS4, and PC.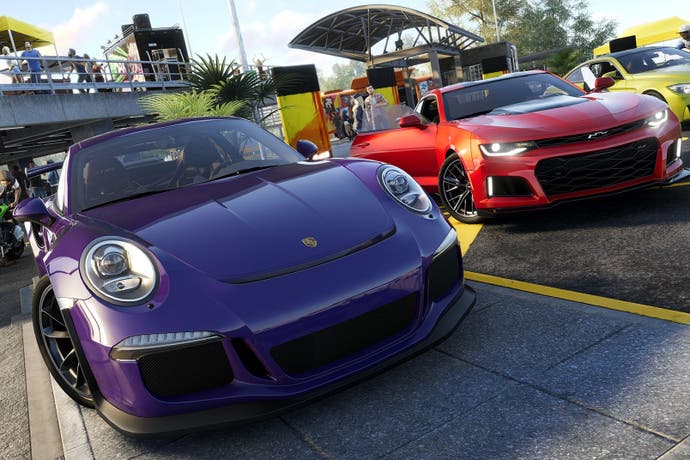 Ubisoft has announced that its long-awaited open-world driving sequel The Crew 2 will finally launch on PC, Xbox One, and PS4 on June 29th.
The Crew 2 was originally scheduled to release on March 16th, but a delay announcement last December shifted its launch to somewhere between April and September this year. At the time, The Crew 2 developer Ivory Tower said that its had postponed the game's release in order to "deliver an experience that fulfils both our fans' and our own quality expectations."
With a final release date now hopefully set in stone, the next step on the road to launch will be a beta event. Interested parties can register to participate in the beta over on the Crew 2 website. Additionally, and inevitably, there's news of various launch day editions, with a Gold Edition and Motor Edition releasing alongside the standard version of The Crew 2.
Opt for the Gold or Motor Edition and you'll get the season pass, a steelbook case, and the Motorsports Deluxe Pack - which itself includes the Ford F-150 Raptor Race Truck 2017, Abarth 500 2008 Monster Truck Edition, Pilatus PC-21, and three avatar outfits. Motor Edition owners also get a Crew 2 American license plate, a map of the game, and four stickers.
Eurogamer called the original The Crew "an astonishing achievement" when it released back in 2014, and its sequel sounds even more thrilling. It follows a similar coast-to-coast open-world racing formula, but widens its net considerably, introducing powerboats and stunt racing airplanes to its previous roster of road cars, off-road buggies and motorbikes.
We'll see how it all works out when The Crew 2 arrives on June 29th.