The bizarre drink driving Dead Rising 4 tweet
"Might as well call in sick now."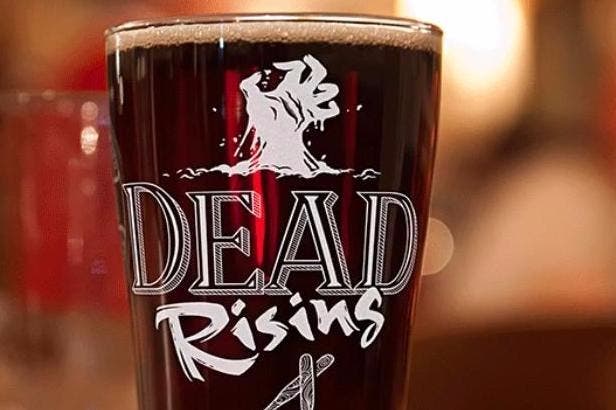 This morning the Department for Transport's Think! road safety Twitter account shared a picture of a pint glass, full with beer, emblazoned with "Dead Rising 4 out tomorrow, might as well call in sick now".
The accompanying tweet said: "#DR4 is out tomorrow! A 2nd drink before driving doubles your chance of being in a fatal collision and not playing it. #FOMOpints"
FOMO means fear of missing out. I'll let that settle in for a moment.
Yes, the Department for Transport appears to be suggesting that missing out on Dead Rising 4 may worry you more than possibly killing someone and yourself. The picture also seems to suggest, by saying you should "call in sick now", you are paving the way for more drinks not less, or that you are taking the day off to play the game, or both. Not to mention driving cars through hordes of zombies in Dead Rising games is a common and effective way of dealing them.
What gives? I spoke to the Department of Transport to find out.
Firstly, this has nothing to do with Microsoft, publisher of Dead Rising 4, a spokesperson for the Department for Transport told me. There has been no conversation with Microsoft, this is not a promotional campaign for the game.
Indeed, the spokesperson was not familiar with Dead Rising 4 at all, and made it sound as though the game was picked from a hat rather than specifically targeted.
As for the tweet suggesting you call in sick so you can perhaps drink more, the spokesperson doubted it, but admitted not having seen the picture in question at all. This is a spokesperson who called me back after I explained myself and query to a colleague of theirs.
What's going on? Simply, this is the Department for Transport trying to reach men between the ages 17 and 34 this Christmas, and to stop them - you, perhaps - having that second drink that could mean life or death for them and others if they get behind a wheel.
The marketing department at the DFT apparently looks at popular events coming up and themes these pint glasses around them. Dead Rising 4 was flagged as just such a popular event, although I strongly suggest you read our Dead Rising 4 review before buying it.
Sure enough, a glance at past Think! tweets shows custom pint glasses for a Red Hot Chili Peppers gig, Everton vs. Manchester United football match, and England vs. Australia rugby match, all correlated by the FOMOpints hashtag. Whether there will be one for The Last Guardian the spokesperson didn't know.
It's a clumsy but well-meaning attempt at using the popularity of games to send an important message this Christmas season: don't drink and drive. Naff advert or not, that's fair enough.