The Art of Fable III
Science and industry.
EurogamerLast time around, you moved from Xbox to Xbox 360 - so you had a lot more power to work with. How much of a leap forward have you been able to make this time? Have the engine guys unlocked a lot more potential, or is it just a matter of polish?
John McCormack
I think it's more that they've understood the engine they were building better on this game. The framework was there, and it's the polish now. For us, it's as if they'd started switching things on in Fable III. They'd go, click, there's your specular! And we'd go, oh look, everything's shiny! Click, there's your normal maps... Ohh!
They just started plugging in the nice-to-have features in the engine that we'd always wanted, and which just weren't available for Fable II. The engine team have been really happy about that, because the nice-to-haves are what everyone wants to work with. They've really enjoyed this one, getting to play with the fun stuff - and the artists have loved it, because what we see in our heads and what we see in our development tools actually started popping into the game in this project.
EurogamerPresumably this time around you also had the advantage of actually having a working engine, right from the outset.
John McCormack
Oh god yes. Absolutely. That was by far the biggest problem on Fable II. I mean, Fable II was a pretty successful project, but it was really scary towards the end, because we were working in the dark with the engine. We'd build things without knowing how it all hangs together - then suddenly the lights are all switched on and you just pray it's not horrible! You'd think, please be like what it was in my head, oh please...
This time it's been much better, actually having an iterative process - the artists build something, drop it into the game, and then iterate within the engine's already working lighting system. Everything was synched with the editor, so we could do something in our 3D package, and the change would appear in the engine.
EurogamerIt sounds like a more relaxed project than the last two - well, maybe not relaxed, but less stressful.
John McCormack
Well... It was relaxed from the point of view that we knew exactly the theme of the game, everybody was aware and everybody was trained up. We were all raring to go. That doesn't stop the fact that it was an RPG being developed in, essentially, two years.
Mike McCarthy
You'll always overreach yourself. You'll always decide to do 10 more things than are really possible. That's the nature of doing a project like this - you think, oh, so it's all working, so we can do fifty million levels then! No, no you can't. No.
The good thing is that, because your aims are so high, you're able to go through and decide which are the strongest parts, and keep all the strongest stuff. The stuff you're cutting is the second and third rung of ideas. You've got the pick of the ideas, which is a really nice position to be in.
EurogamerYou've mentioned the scale of the game - can you compare that with Fable II, as an example?
John McCormack
It's... I don't know the logistics yet. It's definitely bigger than Fable II by a long way, but it's bigger in breadth, as well. We've got a lot more variation in this one. As you said, we never had an engine before - now, with the engine, iteration is faster. We're working at 10 times the speed we ever did on Fable II.
The design is honed, too. Out of around 20,000 assets we made for Fable III, I'd genuinely say that only about six didn't make the cut. The only things we dumped were things where maybe the artist had a migraine, or something, and created one of the most hideous things I've ever seen... [laughs] You just get blips like that, but we were more efficient this time.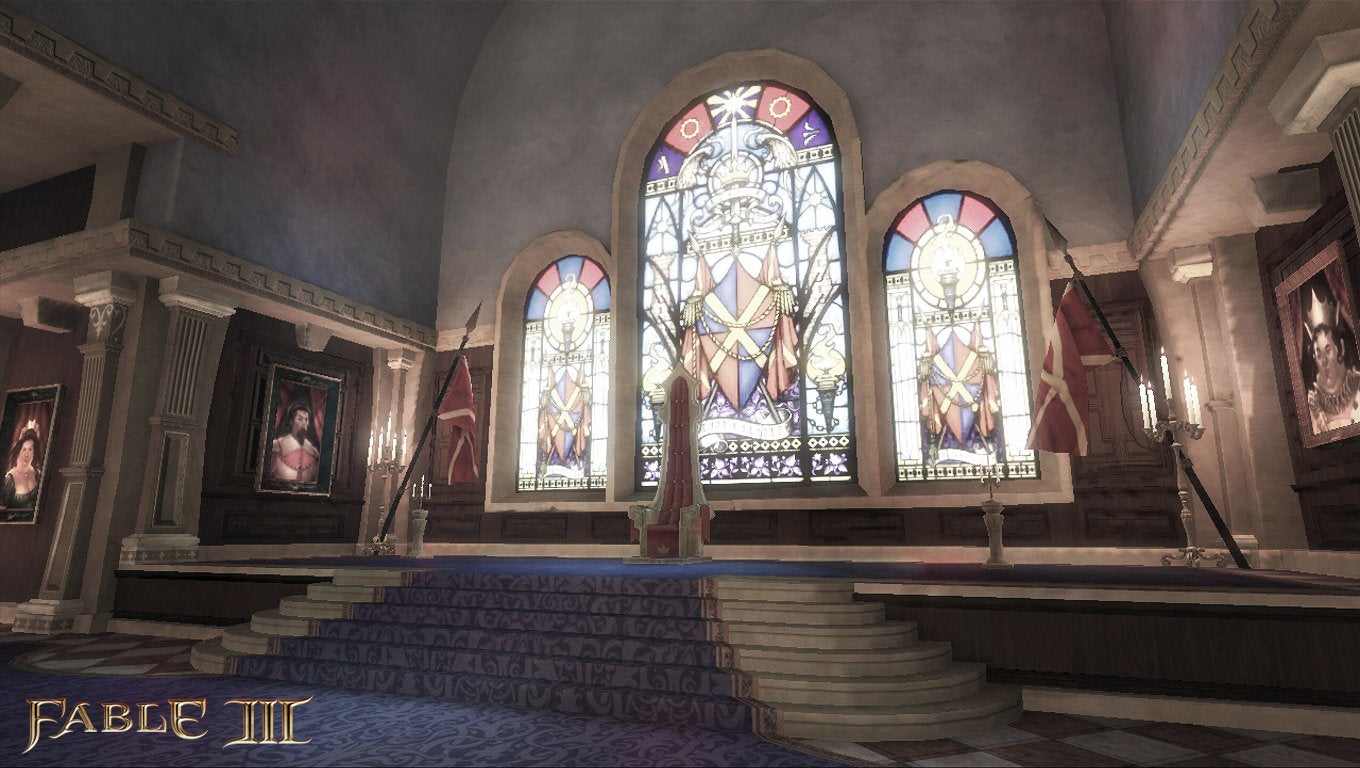 EurogamerSince the first Fable, you've moved away from the big armour, big swords, traditional fantasy aesthetic. Why did you decide to do that? Have you had any resistance to it?
John McCormack
We never want to lose our dark fairytale roots. We always intended to have creatures, but they're not in your face - they never have been. It's not a traditional fantasy world, but with Fable 1, we weren't brave enough in our style. We didn't make the world we wanted to make. We thought, well, we should have a dragon - that's just what we're expected to have.
By the end of Fable 1, we'd got a better idea of exactly what Albion is and what it means to us. As much as we're moving away from the chunky armour and the dragons and so on, we'll never deny that in any way. We'd never say that we're not a fairytale fantasy game - we will always be that.
Mike McCarthy
We've always wanted it to be more about the creepy, dark, European or Celtic style folklore. The kind of fairytale that's very charming and quite eerie, but where utterly hideous things happen. If you read original fairytales, they're absolutely horrible - all sorts of terrible things happen, but in a very charming, dark, strange way, rather than having some guy in armour riding a dragon who comes and saves a village. It's more underplayed and eerie than that.
John McCormack
Plus, we want to create a world that actually makes sense in terms of its technological progress. Industrial progression does kill, or try to drive underground, all of that strangeness - it becomes folklore. The people in the game talk about the events of Fable 1 in that way - "Did that happen? Did trolls exist?" You know, they heard about it when they were kids. That's the natural order of the world, this stuff is driven underneath, into the woods.
Mike McCarthy
It also starts to inhabit the very stuff that's driving it underground. Everything starts to get slightly effected by the stuff that's going on underneath - so it's all a bit crooked and strange.
Will you support Eurogamer?
We want to make Eurogamer better, and that means better for our readers - not for algorithms. You can help! Become a supporter of Eurogamer and you can view the site completely ad-free, as well as gaining exclusive access to articles, podcasts and conversations that will bring you closer to the team, the stories, and the games we all love. Subscriptions start at £3.99 / $4.99 per month.