Terminator and Sarah Connor join Fortnite
He said he'd be back.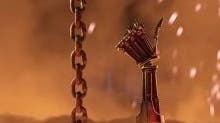 Remember that iconic bit in Terminator where he sinks into the molten fire, thumbs up, then Fortnite's Jonesy comes in to save him?
Sure you do. It's right here:
Arnie's cyborg alter ego and Linda Hamilton's Sarah Connor are both now available in Fortnite - the latest characters to be rifted onto its island during its hunter-themed season. Sadly, there's no option to have Arnie appear as his normal fleshy self.
The pair have been teased for the past few days in-game via a portal near Steamy Stacks, which contained a peek at an area fans figured out was from Terminator 2. Their appearance follows the arrival this week of fellow '80s action film star Predator, who is currently causing lots of trouble as a boss character on the map.
If you fancy owning Terminator for yourself, he and Sarah Connor are now available in the item shop for 1500 V-Bucks apiece, or in a bundle with other themed bits and pieces. Who's next?