Take a look at this lovely Zelda statue inspired by Breath of the Wild
Hey, look!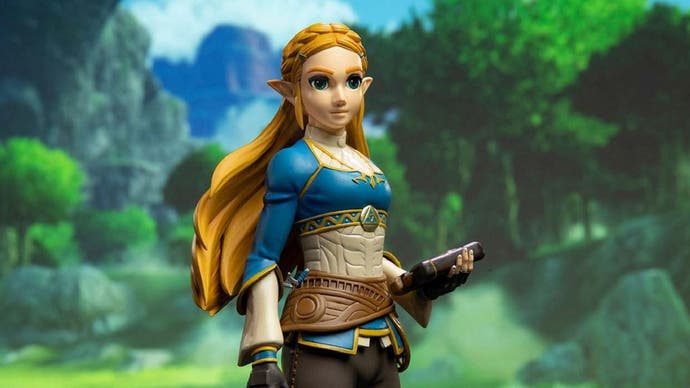 Specialist collectable maker First 4 Figures has unveiled its latest creation: a 10" PVC painted Zelda statue that fully replicates her look from Breath of the Wild.
The figure is identical to her iconic appearance in the Wii U and Switch RPG, and also comes with an intricate Sheikah Slate and a light-up LED base to complete it.
As far as Zelda collectables go, it's easily one the best-designed and most lovingly detailed we've seen. And as it will only be available as a limited run, you know you'll be getting something rather exclusive.
If you see it taking pride of place in your collection, the Legend of Zelda: Breath of the Wild - Zelda Exclusive Edition is $114.99 from First 4 Figures.
With the sheer abundance of Link figures out there already, it's nice to see something different available for once. The demand seems clear too, considering that fans have even taken to creating a Breath of the Wild mod that allows you to play the game as Zelda.
Perhaps this will be a direction Nintendo will take with the Breath of the Wild sequel they announced at E3 this year? News on the follow-up has been non-existent since that announcement, though the game is still in the very early stages. All of the attention on Switch has also been given to Pokémon and Animal Crossing for the near future.
Meanwhile, rooting around on their site some more, it's clear First 4 Figures has a wide range of collectables that swing from the sublime to the ridiculous. Another of their most recent creations is a Luigi and Polterpup figure inspired by Luigi's Mansion 3, but they've also created an elaborate and unsettling Dark Souls Mimic that will set you back over, um, $700. A nasty surprise, indeed!
For something that won't break the bank quite as much, you can keep an eye on our page dedicated to all the best Nintendo Switch Black Friday deals now the massive shopping event is approaching. We've got some early bird offers in there already and will continue to update it with any new sales over the coming weeks.
Meanwhile, for gaming, tech and all sorts of other bargains all year round you can always give us a visit at Jelly Deals. Right now, you'll find our picks for the best Nintendo Switch SD card, some of the best Zelda merchandise you can buy and the best price for the Nintendo Switch Lite Pokémon Edition.