Taiko no Tatsujin's Switch drum peripheral is coming to Europe
With a full Japanese tracklist for Switch and PS4 too.
Following last month's announcement that long-running rhythm-action series Taiko no Tatsujin would be getting a European release on Switch and PS4 on November 2nd, Bandai Namco has confirmed that the full Japanese tracklist and Switch drum peripheral are coming to Europe too.
The drum set will be available alongside the Switch version on launch day - but there's no word on price, and few additional details to share right now. Bandai Namco has, however, offered a full European tracklisting for Taiko no Tatsujin: Drum 'n' Fun on Switch, and for Taiko no Tatsujin: Drum Session, as the PlayStation 4 instalment is known.
Switch's Drum 'n' Fun features a fairly sizeable, if predominantly pop-focussed selection of songs, including classical and Vocaloid tracks, music from Nintendo games (Splatoon 2, Kirby, and Super Mario Odyssey are in there), plus a range of anime theme tunes - including One Piece, Dragon Ball Z, and Neon Genesis Evangelion. The full roster looks something like this: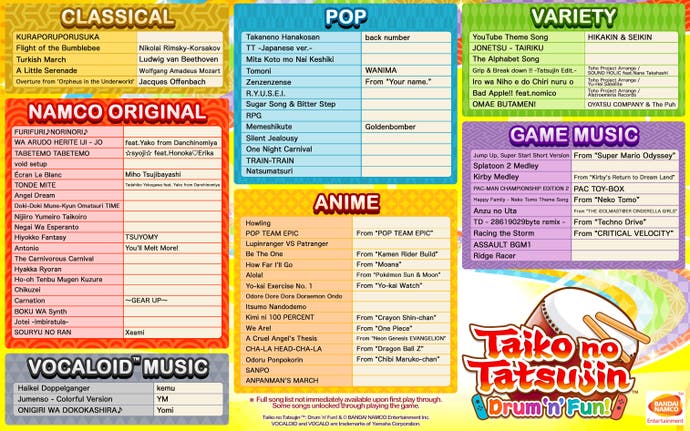 As for the PS4 version, it features a selection of songs and modes somewhat different to the Switch game. It's not a complete departure though, with a similar selection of genres, albeit with additions including the Attack on Titan theme tune, and the eternally inescapable Let It Go from Disney's Frozen. You can scrutinise the full line-up below: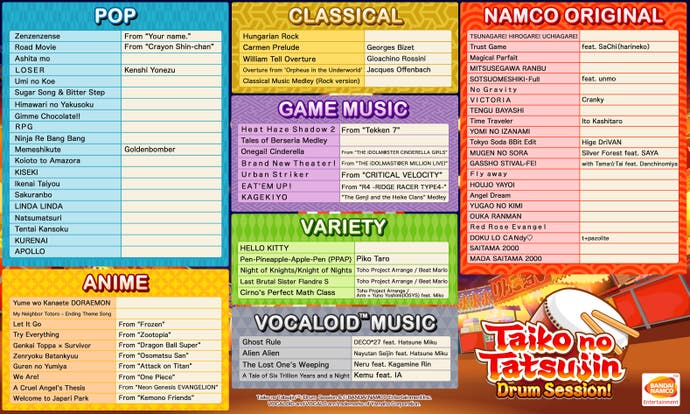 Incidentally, Bandai Namco has cleared up some confusion that arose around its initial Taiko no Tatsujin announcement. The publisher has now confirmed that the Switch version will be coming to Europe as both a physical and digital eShop release. The PlayStation 4 game will, however, only be available as a digital download.
Still, if pop music, rhythm action, and spirited drum stick flailing are things you're likely to enjoy, then you're in for a treat when Taiko no Tatsujin heads to Switch and PS4 on November 2nd. And that's coming from someone who may have got impatient and ordered their Japanese copy pretty much as soon as it went on sale earlier this year.