Tabletop fantasy deck-builder Hand of Fate 2 comes to PC and console this November
UPDATE: Delayed Xbox version out this week.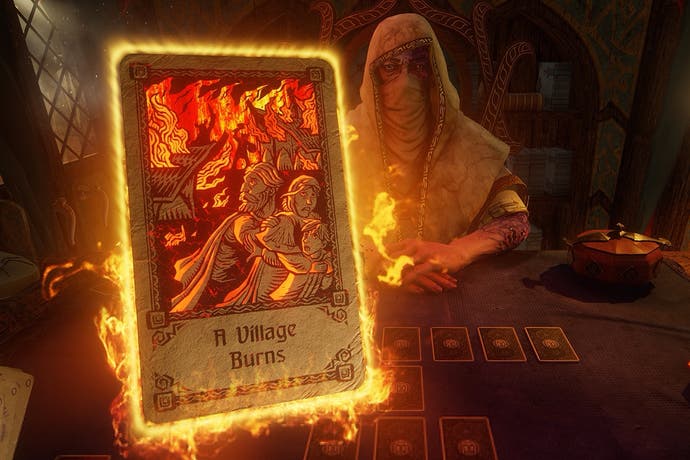 Update, 28/11/17: Defiant Development has announced that the delayed Xbox One and Xbox One X editions of its excellent deck-building RPG, Hand of Fate 2, will now launch on Friday December 1st. Both were originally due to release alongside the PC and PS4 versions earlier this month, but were held back due to "unavoidable delays and issues in testing".
---
Original story, 4/10/17: Defiant Development has announced that Hand of Fate 2, the sequel to its unusual, thoroughly entertaining deck-building role-playing game, will release on PC, Xbox One, and PlayStation 4 on November 7.
The original Hand of Fate's main gimmick was that it (mostly) shirked the ultra-immersive trappings of modern video game RPGs in favour of a more literal take on card-based tabletop questing. Most of the game was spent in a dingy chamber, face-to-face with a supremely well-designed digital dungeon master, known as the Dealer, who narrated proceedings with an irresistibly gravelly flamboyance as he laid out cards and flipped them over to dictate the unpredictable direction of your adventure.
The whole thing played out like a sort of constantly evolving choose-your-own adventure, full of daring deeds, multi-part side quests and character upgrades, with your options slowly expanding as you completed a full campaign run and unlocked new cards to add to the deck.
Most encounters were conveyed through wonderfully evocative writing, constantly enriched by wry comments from the Dealer; Only occasionally would the game abandon its tabletop perspective, dropping you into more fully realised environments for the odd bout of third-person dungeon crawling, and admittedly slightly underwhelming Arkham-style combat.
Hand of Fate 2 looks to unfold in a broadly similar way to its predecessor, based on footage that Defiant has shown so far. There is, however, talk of several new features in the form of new companion characters, a new map system, and improved combat, although quite how much impact they'll have on the overall experience remains to be seen.
I was a big fan of the first Hand of Fate; it offered an engaging twist on classic tabletop adventuring, and was particularly suited to brisker play sessions when adventure time was limited. Hopefully, the sequel will deal a similarly strong hand.