Surgeon Simulator studio has cancelled Splatoon-esque multiplayer skater Decksplash
After it failed to hit its 100k player target.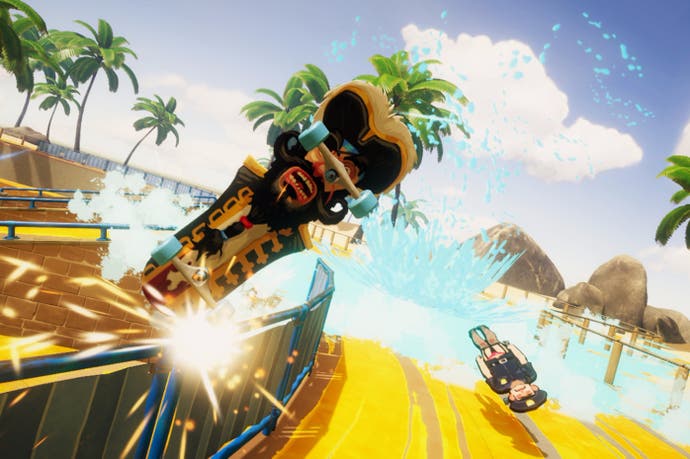 Surgeon Simulator and I Am Bread developer Bossa Studios has announced that development on its vaguely Splatoon-esque multiplayer skateboard project Decksplash will end after the game failed to reach its 100k player target during last week's free trial.
Bossa recently announced that Decksplash's future would be decided by a week-long free trial on Steam. If 100,000 people downloaded and played the game during that time, it would be released in Early Access. If it failed to meet that target, work on the project would cease.
Bossa hasn't revealed exactly how many players did log in to shred and spread their ink between November 2nd and November 10th, but it evidently wasn't enough - and now Decksplash is officially no more.
Bossa co-founder Henrique Olifie said of the game's demise, "It has been quite a nail-biting ride for the team, watching numbers climbing, players having fun, maths, wagers and predictions around the studio done. In the end, we fell short of the 100,000 players we set ourselves as a goal."
"Though not the best, this outcome is a good one for everyone involved: its players won't spend money on a game that won't survive the long haul, the team can move on to a new Bossa project with a sense of closure having done their best with Decksplash, and we tried a new way of validating a multiplayer game. Should we have cancelled the game without this experiment, a 'what if' would always be there in the back of our minds."
DeckSplash was first revealed back in January this year, and is one of several announced games currently in development at the studio. Bossa's massively multiplayer sky-piracy adventure Worlds Adrift is currently in Steam Early Access, and feline dating sim Purrfect Date was recently announced.
For those players that had hoped for Decksplash's continued development, the game's official website has one last message, "We want to thank everyone who supported us during the Free Week and let you all know that while this is the end of our story, we're glad we got to share it with you."