Supreme Commander demo launches amBX
PC first, console showing at GDC.
Philips launched its upcoming amBX gaming hardware at CES in Las Vegas yesterday, kicking the whole shebang off with a Supreme Commander demo and promising console-related announcements at GDC in March.
Showing the amBX technology with the use of some oversized replicas of the initial set of lights, fans and speakers that make up the PC peripheral range, Philips used the high profile THQ RTS title to give a demonstration of how additional ambient colour and other effects will, according to US president Stewart Muller speaking after the Supreme Commander demo, "blow gamers away: literally".
Similar in concept to Philips' successful Ambilight televisions range, where a backlight behind the screen matches colours in the content being displayed, "It transforms the entire gaming experience," Muller said.
"What you have is a wall-washer, which displays 16 million colours behind the computer screen. You have two desk fans which blow at different intensity levels depending on what's happening in the game. You have two satellite speakers with integrated lights. What's not shown here is the wrist-rumbler and the subwoofer. In essence, the amBX technology you have just felt represents a totally new software language that gives gamers an experience in the real world, not just the virtual world."
After the presentation, amBX chief marketing officer Jo Cooke claimed Supreme Commander is just the start in terms of top content becoming "amBX-enabled".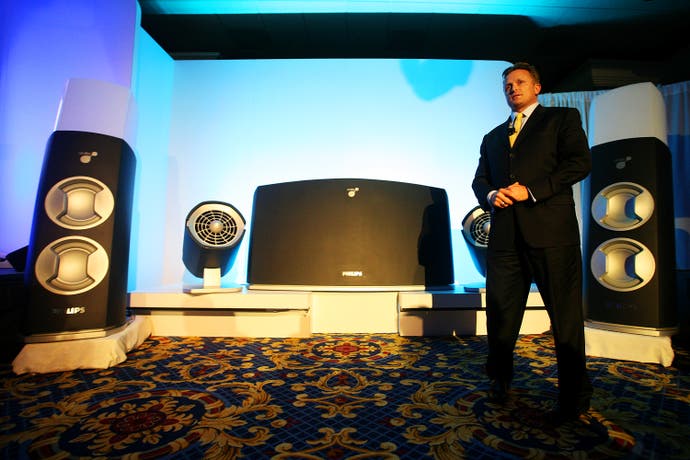 "THQ was the first publisher that signed with us, so we wanted to support them with today's demo," she said. "We've just signed a deal with Gas Powered Games - the developer of Supreme Commander - so I think it shows that we're committed to helping them bringing new technologies into their games. THQ was very happy to give us the content to use.
"There'll be plenty of other games," Cooke added, "and we're looking at any new game that's coming out to see how different genres react with amBX, because it's not a genre-specific technology... It's absolutely our objective to make amBX a de facto technology that just should 'be there' in the same way surround sound applications are now. We're talking to all the publishers and we're looking for really key high profile games."
Console gamers curious to amBX peripherals to their machines should keep an eye on GDC in San Francisco in March.
"At GDC we will be showing how amBX might run from a console point of view," said Cooke. "Over the course of the next 12 months we'll be making announcements about what we're doing with other platforms, which platforms we support first and which software we support with it."
The initial line of amBX PC peripherals is launching in the US and Europe in the coming months, with CES seen as a platform the technology's launch in general. The US kit is priced at US$ 199 for a starter kit which contains a directional wall-washer light, controller unit and satellite lights; US$ 299 for a Pro-Gamer Kit which includes a directional wall-washer light, a controller unit, satellite 2.1 speaker lights and subwoofer; US$ 99 for an Extension Kit featuring a set of desk fans and wrist-rumbler; and, for the "ultimate gamer", a US$ 399 Premium Kit which includes all of the above.
PC games currently amBX-enabled include Broken Sword: The Angel of Death, TOCA Race Driver 3 and DEFCON.