Superbly animated metroidvania Legend of Iya takes to Kickstarter
An ex-WayForward artist's decade-plus long pet project.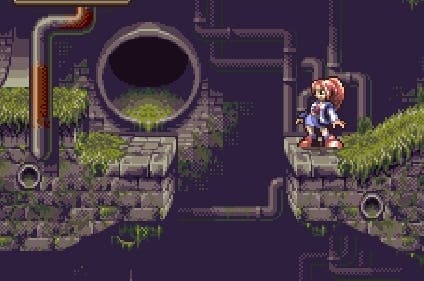 Indie developer Andrew "darkfalzx" Bado has been plugging away on his pixelated metroidvania adventure Legend of Iya for the better part of two decades and the finish line is starting to come into focus. If Bado can hit his Kickstarter goal of $75K, he should be able to deliver a finished PC build by November 2014.
Bado hasn't been focusing on Legend of Iya the whole time, though. He's been busy making a living as a pixel artist for such companies as WayForward, Majesco and Gameloft, not to mention doing other things like raising children. Over the years his vision for Legend of Iya has transformed radically and he's completely reset it several times since its initial 2001 build. According to his development blog's maiden entry in 2009, his latest overhaul was in 2006.
Bado's skills as a pixel artist haven't gone unnoticed as his intentionally low-res sprites retain very expressive, fluid animations with around 500 frames just for the protagonist. Legend of Iya follows the plight of a 12 year old girl who gets whisked away to a world full of strange, magical creatures. The developer noted his inspirations as The Wizard of Oz, Castlevania: Symphony of the Night, and Super Metroid, and it seems to retain those games' sense of wonder with its varied, colourful environments and creatures.
Additionally, Norwegian electronic artist Magnus Gangstad Jørgensen will compose the game's soundtrack if it reaches its Kickstarter goal.
Five days into its 30 day campaign it's raised $14,507, leaving it on track to succeed, but these things always slow down towards the middle before getting an 11th hour boost.
Pledging $10 will guarantee backers a DRM-free copy of the game for PC, while $25 pledges come with a digital soundtrack. You can also support Legend of Iya without money by voting for it on Steam Greenlight.