Superb underwater survival adventure Subnautica dated for December on PS4
Leaves Xbox One Game Preview on same day.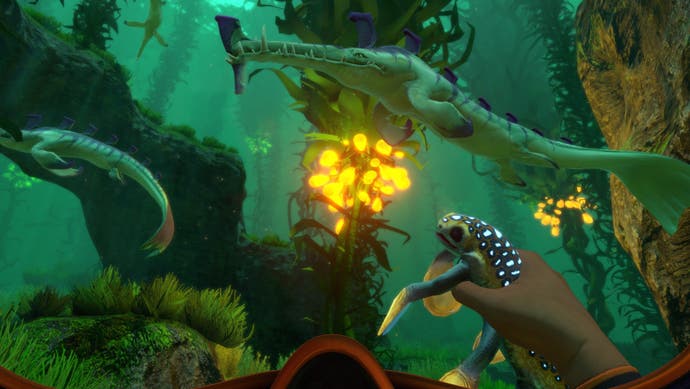 Developer Unknown Worlds has announced that its excellent (and terrifying) underwater survival adventure, Subnautica, will finally be making its way to PS4 on December 4th.
Subnautica released earlier this year on PC (after three fruitful years in Steam Early Access) to much critical acclaim. It's also been available on Xbox One as part of Microsoft's Game Preview programme since 2016 - and this latter version is also scheduled to emerge in its 1.0 guise alongside the PS4 release this December.
If you've yet to experience the wonders (and horrors) of Unknown Worlds' single-player survival adventure, it's highly recommended, tasking brave souls with exploring, and eventually escaping, an ocean planet after their ship mysteriously crash lands during a routine mission.
It's all smiles at first as you flit around bright blue waters and stunning coral reefs, admiring the alien wildlife while ensuring you've enough food and oxygen to stay alive. However, as you swim further away from the safety of your escape pod, and plunge ever deeper, things grow rapidly more terrifying. Blue waters turn to pitch-black depths and the once playful wildlife turns increasingly hostile, increasingly toothy, and much, much bigger.
What really makes Subnautica shine, aside from its diverse, strikingly designed underwater landscapes, is its deft mix of sandbox exploration and guided narrative. Although certain events and locations trigger new story milestones, it's a refreshingly freeform experience.
Pick any compass point and you'll almost invariably stumble across exotic new biomes, make some surprising discoveries, and perhaps even find helpful new technologies. The latter can be used to craft everything from elaborate bases to advanced underwater transportation, enabling you to push even further and deeper than before. But when you're ready for a little more direction, the story is always there waiting - and it really is a good 'un.
Unknown Worlds notes that Subnautica will launch physically and digitally for Xbox One and PS4 on December 4th, with a physical release coming slightly later in Europe, on December 7th. And for those that simply can't get enough of the oceanic stuff, there's a standalone arctic expansion, known as Subnautica: Below Zero, currently in the works.