Super Street Fighter IV: Arcade Edition
Twin town.
When Super Street Fighter IV was released on console last year, some people bemoaned the fact it was a standalone retail release rather than DLC. But when you consider the avalanche of new content it offered - including ten new characters, four new stages, alternative Ultra Combos and dramatic changes to the general character balancing - it was clear that Capcom was offering a pseudo-sequel rather than a by-the-numbers update.
Super Street Fighter IV: Arcade Edition, however, is an entirely different kettle of fists. Although it's allegedly the final act in the SFIV series, it's less of a dramatic overhaul and more of a methodical upgrade.
The most apparent addition are the four new characters who appear as tantalising bookends on the expanded character select screen, bringing the tally up to an impressive 39. In terms of Street Fighter mythology, Evil Ryu is Ryu after he's gone berserk, while Oni seems to be Akuma after he's progressed to the Super Saiyan level above Shin Akuma.
Evil Ryu also appeared in the Alpha series and makes it into Arcade Edition with a heavy offense that's offset by low stamina. In execution terms, he's a mishmash of standard Ryu and Akuma, with attacks that include Ryu's standing roundhouse and Akuma's crouching fierce.
He keeps his classic Shoryuken and Hadoken, while borrowing Akuma's hurricane kick, multi-hit fireball and teleport. He also sports an original special that looks like a looping axe kick, and if you land it in EX form, it counts as an overhead with untechable knockdown - meaning the opponent can't rise quickly.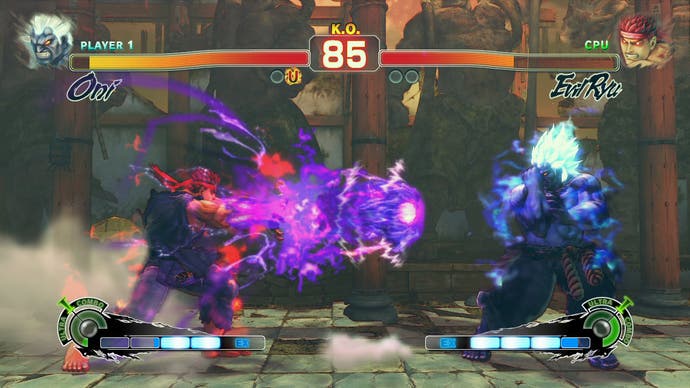 Oni, meanwhile, has a fairly poor keep-away game thanks to sluggish start-up on his fireballs, but makes up for it with some inventive specials. These include an air dash that can bait anti-airs, a Honda-style butt-splash that can be used as an EX overhead and a lunging slash that works as a cross-up. All these tools give Oni some serious damage potential, but to compensate, he also has a dragon punch that can't focus cancel on block.
Rounding off the new challengers are the kung-fu fighting twins Yun and Yang who, much like Ryu and Ken before them, started out as palette swaps in the original Street Fighter III before developing their own distinct move sets. In Arcade Edition, they share two special moves which consist of a palm strike that's excellent for building metre and a command grab that works similarly to Fei Long's.
They also share a dive kick manoeuvre which forms the basis of their pressure-intensive play-styles, but otherwise the siblings play very differently. Yang relies on his strong pokes and mix-ups to keep the opponent guessing. He also has a fairly risky teleport, a rolling kick that can punish predictable fireballs and his classic mantis slashes which are equally good at closing gaps and finishing combos. Yang's only drawback is his low damage output, and much like his sibling, he stuns easily.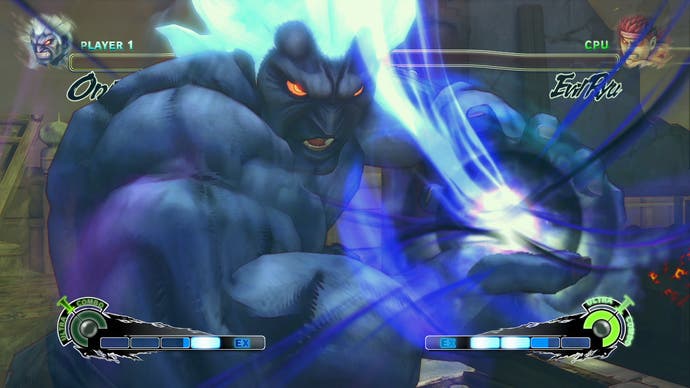 Comparatively, the other brother is the best rushdown character in the game, with a combination of wrecking ball combos and monstrous momentum. His juggle-heavy specials include an anti-air double kick, a shoulder barge that can effortlessly focus cancel into Ultra 1 and a lunging punch that doubles up as an armour breaker. His EX lunge punch is also a top contender for Arcade Edition's most potent move, as not only does it leave you at frame advantage on block, but it can combo directly into his Ultra 1 on hit.
But this is only half the story, as by giving Yun his classic Genei Jin Super Art from Street Fighter III - which creates shadows that mimic his attacks - Capcom has created a cap-doffing beast who can pull off a custom combo comeback even on the verge of defeat. Yang also receives a similar but less deadly super, while Oni and Evil Ryu make do with their classic Raging Demons. And just to be extra sly, Oni can pull his off while airborne.