Super Mario Runs past Pokémon GO's download record
Reportedly makes $5m across 5m downloads in a day.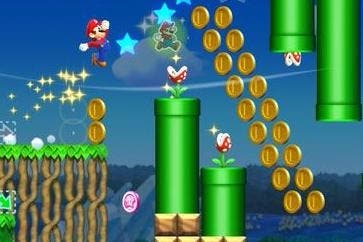 After its iOS launch yesterday Super Mario Run is doing the business on the App Store, where it's on track to smash Pokémon GO's record of 5.6m downloads in three days.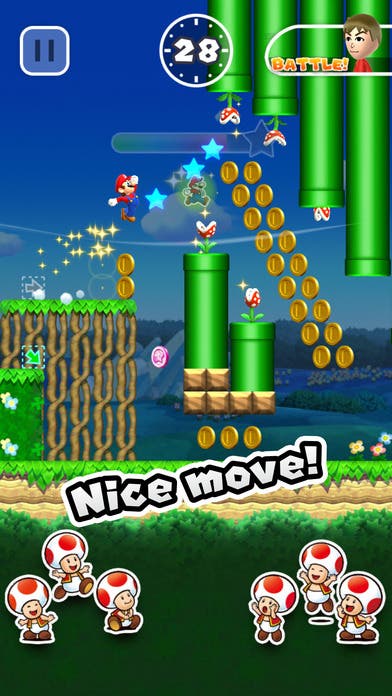 According to analytics from Apptopia (via The Verge), Super Mario Run was downloaded 2.85m times on launch day, nearly three times that of Pokémon GO, which received roughly 900k downloads on its launch day.
Apptopia's records show that Pokémon GO's downloads drastically sped up, and that after three days it had received 5.6m downloads. This is probably due to the fact that Pokémon GO had a more staggered launch across multiple territories, whereas Super Mario Run's release was the same day worldwide and Nintendo put a lot of marketing into promoting its 15th December launch.
Yet Super Mario Run's popularity is likewise snowballing. According to data analyst firm SensorTower (via Variety), Super Mario Run was downloaded 5m times in its first 24 hours. The SensorTower figures claim that Nintendo's first mobile Mario game generated $5m in revenue from that same time period.
SensorTower also shows that Super Mario Run is the most downloaded iPhone app in 80 countries, and the top-grossing one in 32 of these.
Despite this runaway success, there's been some backlash by both players and investors alike. As reported by Bloomberg, Nintendo shares fell by 4.2 per cent in Tokyo, decreasing the company's market value by $1.5bn. The game's co-developer, DeNA Co., likewise saw its stock fall 6.8 percent.
This is likely due to the game's peculiar payment model, which eschews the popular free-to-play format where micro-transactions steadily make up revenue over time. Instead, the first fews stages are free, then players are asked to pay £7.99 / $9.99 to unlock the rest of the game. It's possible some investors didn't realise this and chose to cash out for what they perceived would have a strong launch but a short tail.
It's worth noting that if the game is making $5m across 5m downloads, that means it's raking in roughly $1 per download - i.e. one in ten players are purchasing the full $9.99 game. One must also factor in that the first few stages are free and have significant replay value, so it's quite likely some folks who downloaded the game haven't even exhausted its free content yet.
When it comes to the players, Super Mario Run also received some criticism over its always-online requirement, which makes an internet connection mandatory to play the leaderboard-focused game.
As of publishing, Super Mario Run has a 2.5 star rating across 35,112 users.
Our Chris Donlan was a staunch defender of it, however. "Super Mario Run's not just ingenious and demanding and infuriating and delightful. It's a game born of a deep understanding of its platform," he wrote in his glowing Super Mario Run review.