Super Mario Odyssey - Showdown in the Inverted Pyramid and how to beat the Mini Broodal
How to complete the Sand Kingdom objective.
Showdown in the Inverted Pyramid
Now head right towards the large Inverted Pyramid and head inside. Once inside, use one of the Bullet Bills hurtling towards you to reach the far side of the chasm. Enter the Warp Pipe here to start another 2D section.
In this bit, the blue area will see you walking normally, while the red area will invert gravity and make you walk on the ceiling. Use this system to avoid the triple Bullet Bills. Use the green tube at the end to enter the next 2D section.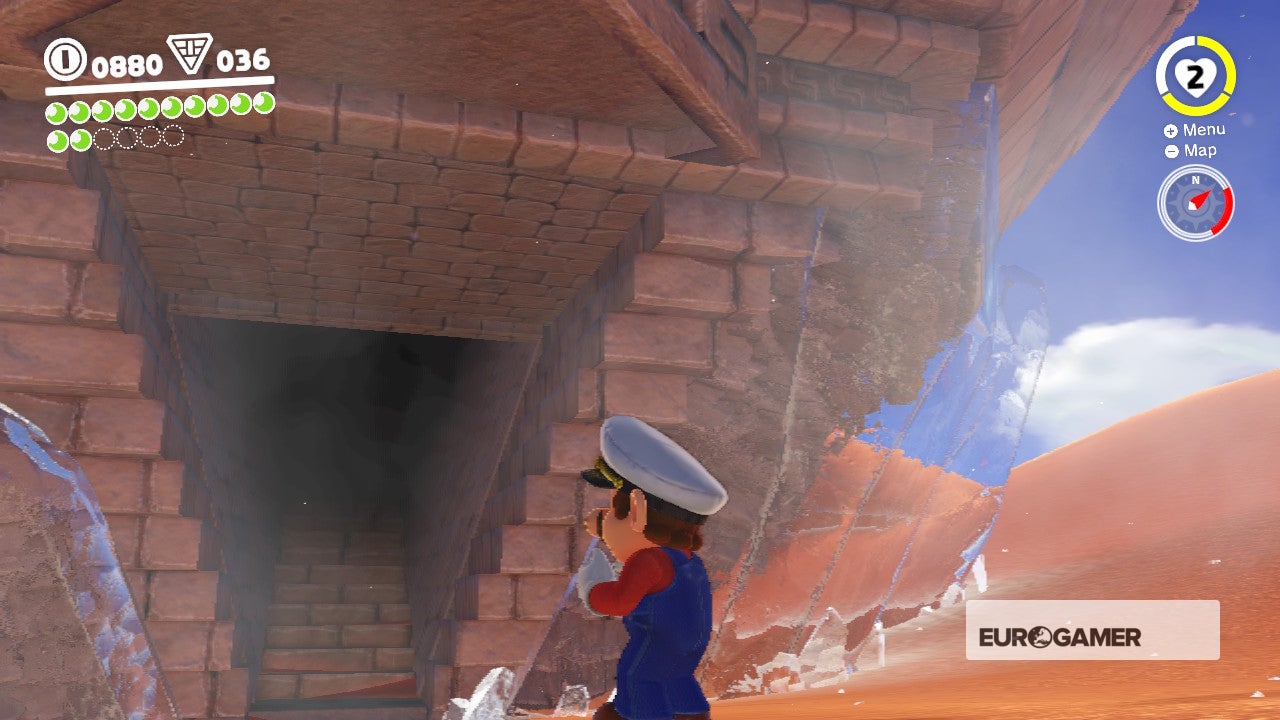 Rush across this final 2D section (being mindful to time your jumps to avoid the triple Bullet Bill) and re-enter the third dimension. Use a Bullet Bill to blow up the blocks in your way, then use another to accelerate across to the other side of the chasm that's revealed.
Avoid the slow moving pillars as you go. Reach the big flight of stairs to enter the boss battle beyond.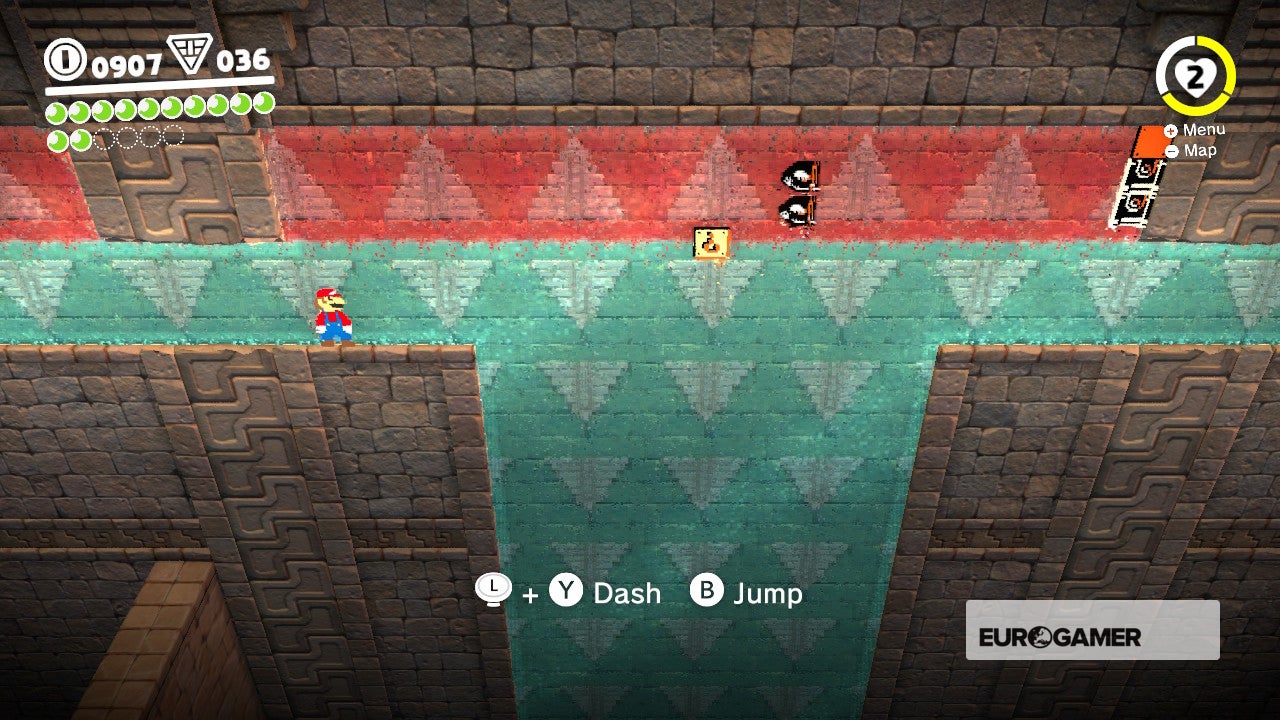 ---
Need more help? Our Super Mario Odyssey guide and walkthrough goes through every objective in each Kingdom, while our Power Moon locations can help you track down the likes of Cascade Kingdom Power Moons, Sand Kingdom Power Moons, Metro Kingdom and New Donk City Power Moons and more collectables. We also have Purple Coin locations for each Kingdom, and if you want to know what to spend it on, we have a hats list, outfits list, stickers list, a souvenirs list as well as a music list to kit out the appearance of both Mario and the Odyssey. Once you've finished the game, check out the free Balloon World update, too.
---
Mini Broodal
The next Broodal boss has a metal spiked hat, so you can't hurt with a regular Capy fling. Instead, wait for her to either throw a small spiked ball at you (which you can hit back at her if you're at the right angle) or a much larger spiked ball on a chain (which will fling back at her if you hit it in time). When she falls to the ground, jump on her head.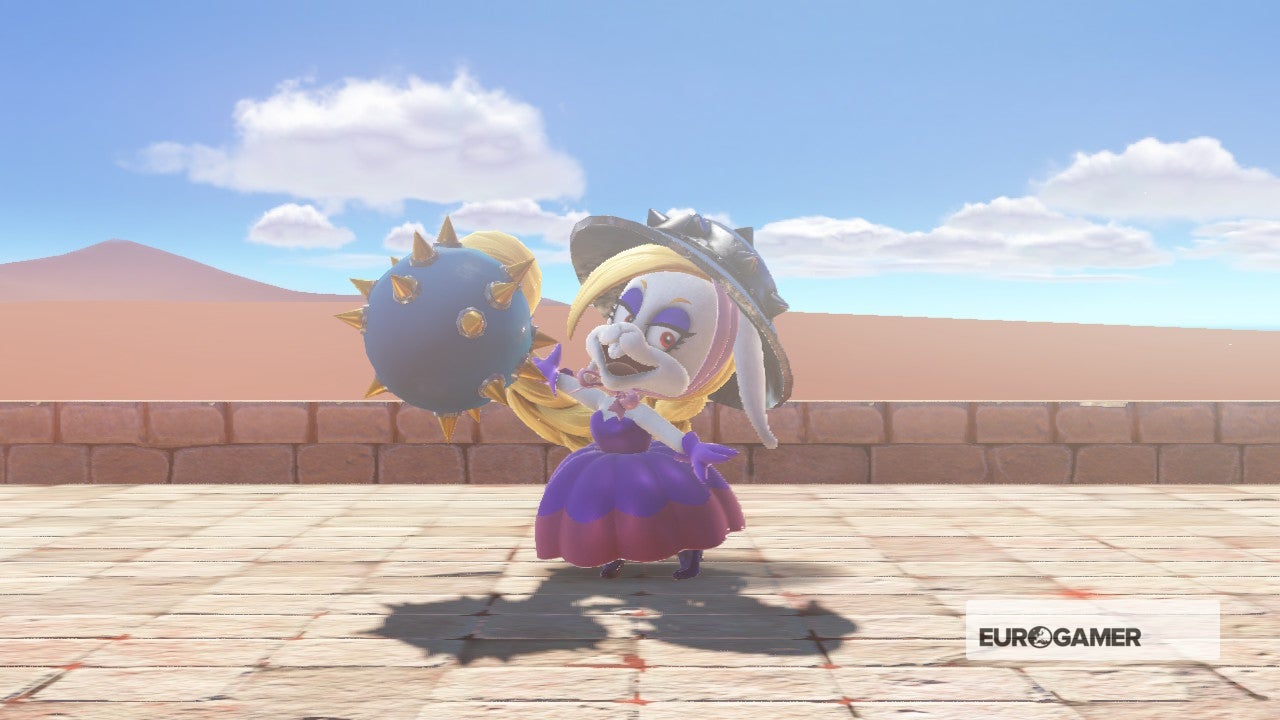 This will make her disappear into her hat and float above you. She'll then start dropping spiked bombs, which will explode into fiery pools that take a while to disappear. After around four lines of bombs have been dropped, the sequence will start again.

Next up: Super Mario Odyssey - The Hole in the Desert
Also see: Sand Kingdom Power Moons
And: Purple Pyramid locations

>

Repeat this process two more times and she's a goner. She'll then drop a Multi Moon (Showdown on the Inverted Pyramid).