Super Mario Odyssey - How to beat the Mother Broodal boss fight with Chain Chomps
How to complete the Cascade Kingdom objective.
Mother Broodal
Watch out for the golden Chain Chomp (called Chain Chompikins, naturally).His path will be marked by a set of golden chevrons, and he moves pretty fast, so don't hang around too long. You'll need to possess this chompy pet to proceed, so be sure to jump just far enough out of the way to turn back around and launch Capy.
You'll need to hit this big Chain Chomp twice - once to knock off its hat, then another time to possess it. Now use the method you learned with other Chain Chomps, pull back on the left analog stick and let go to hurt the boss. Jump on her head to reveal some gold coins and do her some damage.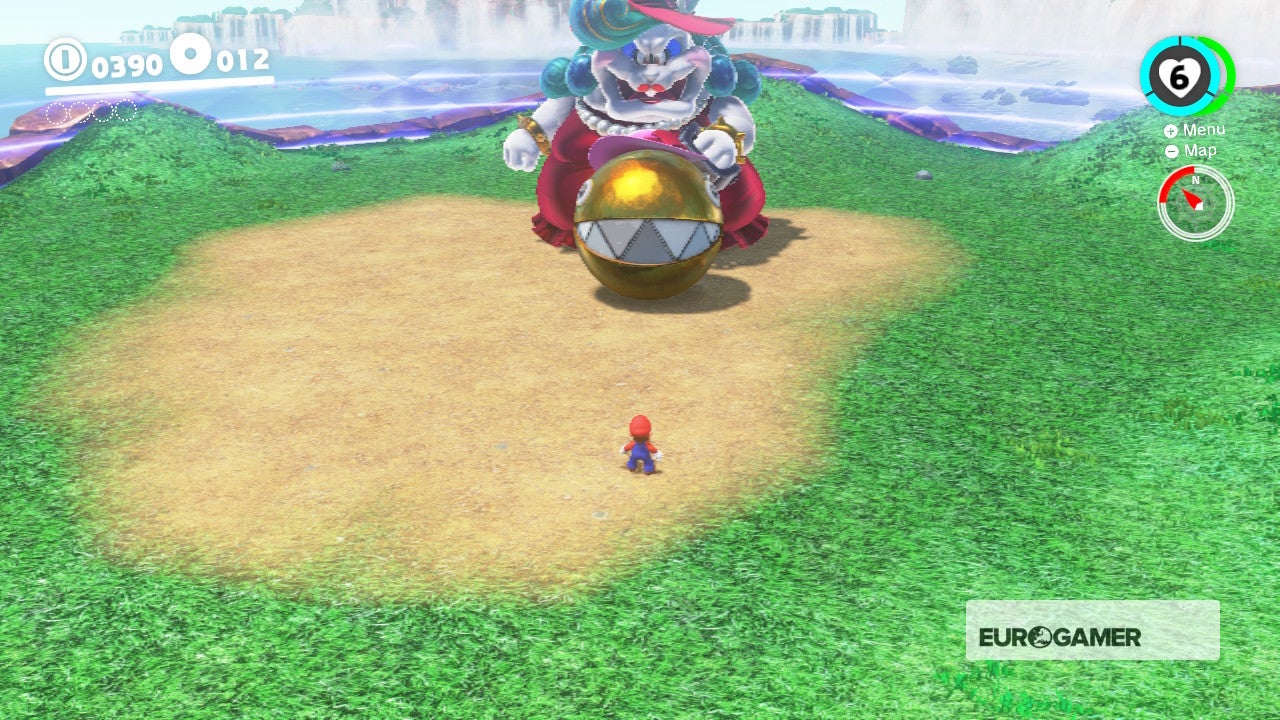 Now watch out as she charges it up and sends it flying at you. This single attack travels a lot further than the main Chain Chomp attack, and it's faster too, so be on your guard. She'll now return to her original attack pattern. Repeat this process two more times and she'll be toast. When she collapses, run over and collect the Multi Moon she leaves behind.
---
Need more help? Our Super Mario Odyssey guide and walkthrough goes through every objective in each Kingdom, while our Power Moon locations can help you track down the likes of Cascade Kingdom Power Moons, Sand Kingdom Power Moons, Metro Kingdom and New Donk City Power Moons and more collectables. We also have Purple Coin locations for each Kingdom, and if you want to know what to spend it on, we have a hats list, outfits list, stickers list, a souvenirs list as well as a music list to kit out the appearance of both Mario and the Odyssey. Once you've finished the game, check out the free Balloon World update, too.
---
Fossil Falls (cont.)
You'll now start back at the Odyssey, but the three Moons you've collected won't be enough. You'll need one more to make it out of this kingdom and onto the next one - the Sand Kingdom. Before we embark for the dunes, you'll need to turn left at the Odyssey, then possess the Chain Chomp that's now located here.
Pull back on the left analog stick and use its attack to smash the tall, dark tower of stone against the cliff face. Now run inside the War Pipe that's just been revealed.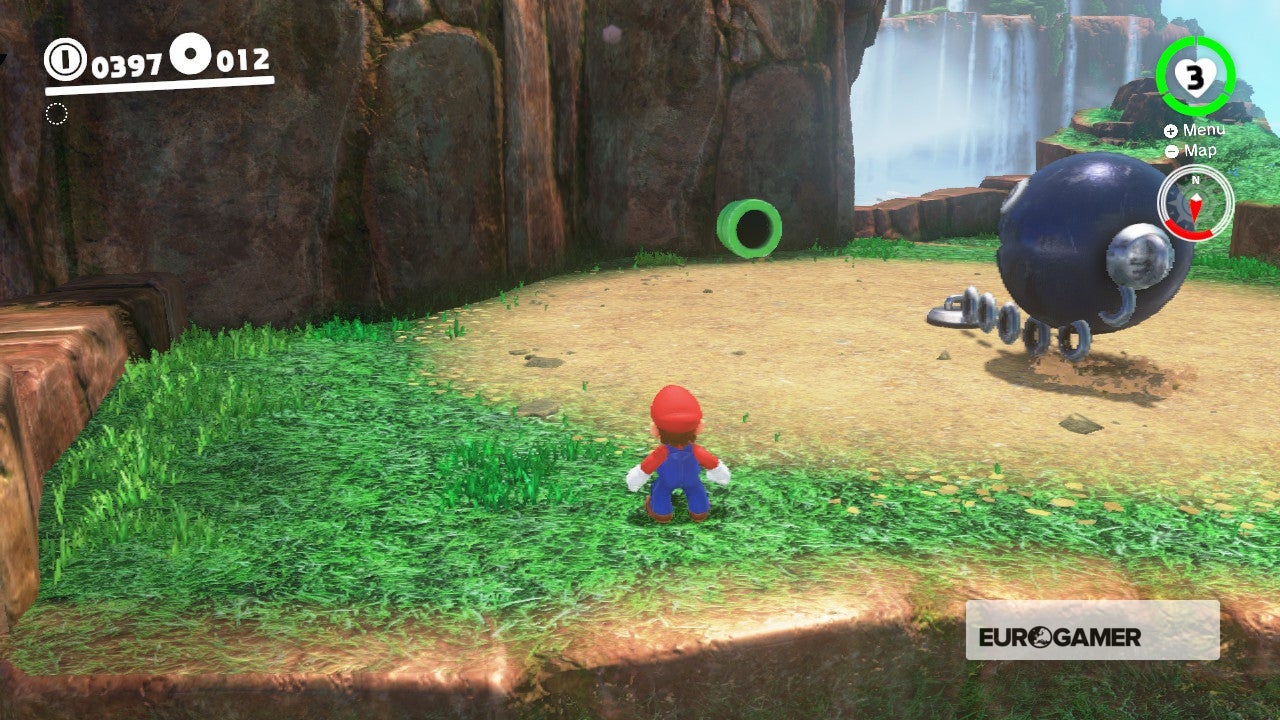 Turn left when you emerge at top of the rocky cliff and run across the checkpoint (Top Of The Big Stump) on top of a rocky stump. From here, turn right and jump down. Run across the cliff and collect the final Moon you need to kickstart the ship.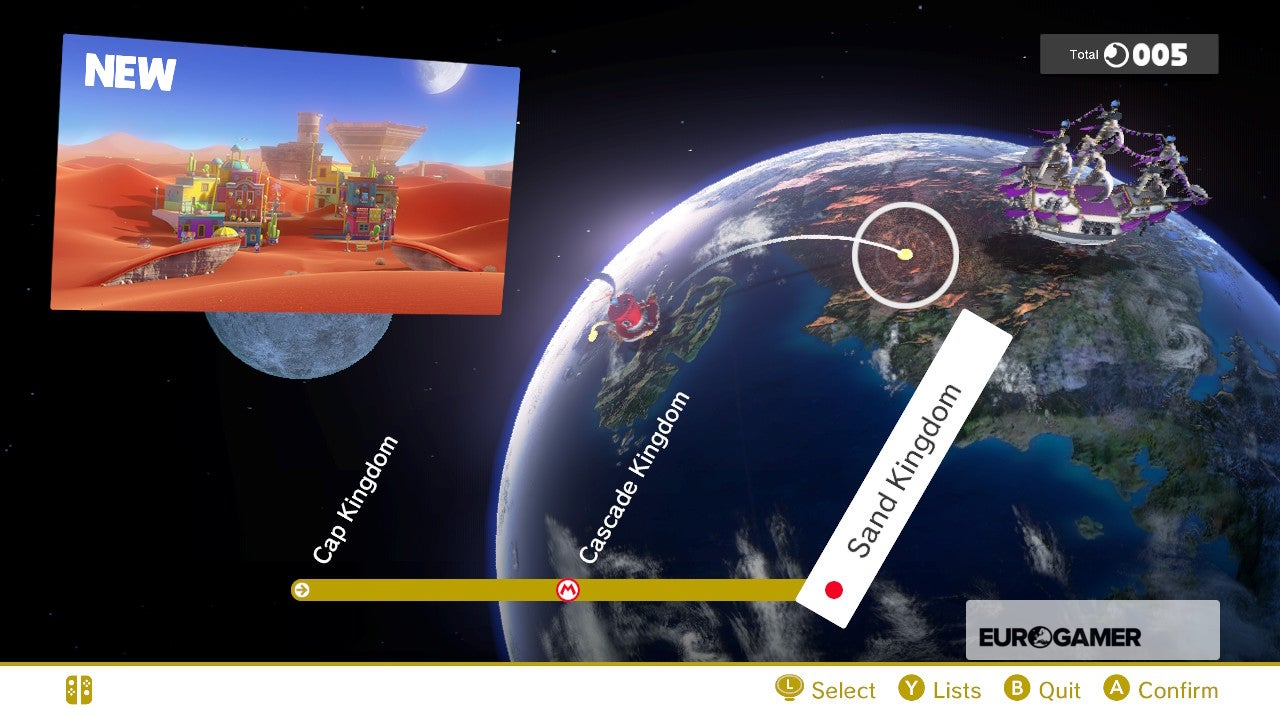 Next up: Super Mario Odyssey - Tostarena: - Atop the Highest Tower
Also see: Cascade Kingdom Power Moons
And: Purple Ring locations
To use it, jump back down (don't worry, you can't get hurt) and throw Capy at the globe outside the Odyssey to enter the final Moon. You'll now be able to travel to the Sand Kingdom. Jump in to continue your adventure.
Will you support Eurogamer?
We want to make Eurogamer better, and that means better for our readers - not for algorithms. You can help! Become a supporter of Eurogamer and you can view the site completely ad-free, as well as gaining exclusive access to articles, podcasts and conversations that will bring you closer to the team, the stories, and the games we all love. Subscriptions start at £3.99 / $4.99 per month.