Suicide Squad will have a battle pass limited to cosmetics - report
UPDATE: Leaked image now removed by Warner Bros.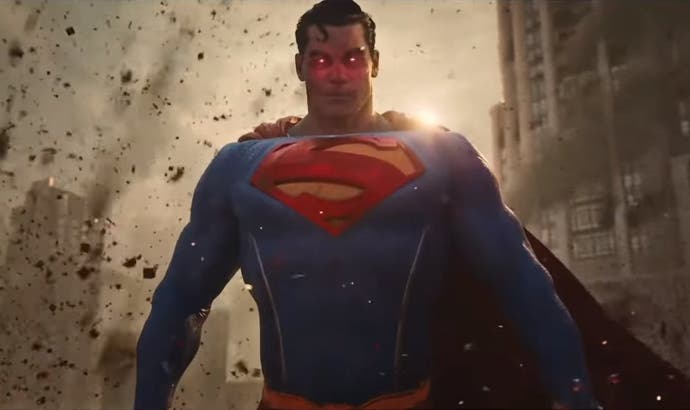 UPDATE 20/1/23: The leaked Suicide Squad: Kill the Justice League image which showed the game's main menu - including mention of its cosmetic battle pass - has now been scrubbed from Twitter due to a copyright claim.
This move all but cements the leaked screenshot as accurate of what players will see when Suicide Squad arrives in May.
Eurogamer previously contacted Warner Bros. Interactive for comment on the leak, but has not heard back.
---
ORIGINAL STORY 17/1/23: Suicide Squad: Kill the Justice League, the next game from Batman Arkham developer Rocksteady, will include a battle pass system focused on cosmetic items, it's been claimed.
A leaked image apparently showing the game's main menu appeared online last night, spread via Twitter and reddit, and has now been verified as real and recent by VGC, apparently taken from a PlayStation test build.
The screenshot includes a menu with a "battle pass" section, above a squad loadout showing four characters, all of whom have levelling options.
The image, and today's report on it, is the first we've heard of Suicide Squad having a battle pass component - even if it is limited to cosmetics.
The extent to which Suicide Squad will be treated as a live-service game has been hotly-debated among fans to date, following the failure of other multiplayer "games as a service" titles and Rocksteady's previous history making the acclaimed single-player Arkham series.
Eurogamer has contacted publisher Warner Bros. for comment.
Suicide Squad features Harley Quinn, Captain Boomerang, Deadshot and King Shark as anti-heroes, on a mission to eliminate Justice League members brainwashed by Brainiac.
The title has faced a protracted development and several delays, but will finally arrive for PC, PlayStation 5 and Xbox Series X/S on 26th May. It will be Rocksteady's first major release since Batman Arkham Knight, eight years ago.