Stranger's Wrath HD XBLA finally ruled out
PS3 version getting Move and 3D support next week.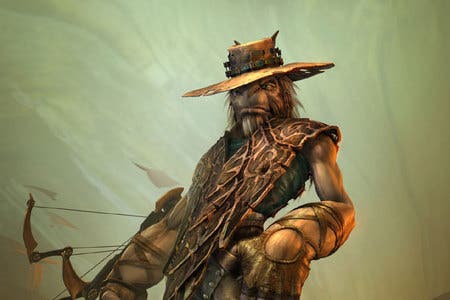 Oddworld: Stranger's Wrath HD is not coming to Xbox 360, developer Oddworld Inhabitants has confirmed once and for all.
When asked about an Xbox 360 version by a commenter on the official site a community rep replied, "The boat has really passed on that one. We're winding up development on Stranger's Wrath HD and Munch's Oddysee HD. Blame Microsoft for not letting us publish on Xbox 360."
An Xbox no-show was hinted at back in January when Stranger's Wrath HD co-developer Just Add Water Tweeted, "they (Microsoft) turned us down again :( time to get the big guns out!" (thanks Wolf's Gaming Blog).
Originally Microsoft turned the developer down because there was a stipulation that games must be under 2GB and Stranger's Wrath was too big. Just Add Water trimmed it down, but Microsoft still said no.
It then claimed that a game must score above an 80 on Metacritic to be on XBLA or Games on Demand, yet the original Xbox exclusive received an 88, while the HD version on PSN scored an 82.
Finally, Microsoft said that a game needed to sell a million copies to be eligible, which Stranger's Wrath fell short of.
Just Add Water tweeted "They FAIL" and "yet again they have cock blocked us" before publicly announcing that it was planning to seek out a third party.
"MS do NOT want it at all via first party. MS do not want to publish it, so third party here we come!"
Moving on from that unpleasantness, the developer is currently working on an HD rerelase of Munch's Oddysee for PS3 as well as a significant new update for Stranger's Wrath HD.
A new patch is due 27th June on PSN, including the following new features:
3DTV support
PlayStation Move support
Video recording and uploading
Brightness & Gamma controls
Audio fixes
Increased crosshair visibility
Fixed quicksaves and autosaves so you can load your last autosave and quicksave at any time
Extra subtitles in English, French, Italian, German and Spanish
Performance Improvements
Check out the new trailer highlighting the enhancements below. As it points out, we gave the game a 9/10 in our Oddworld: Stranger's Wrath review - "Stranger's Wrath has finally received the lavish treatment it deserves, and the gaming world has a chance to reclaim one of its brightest treasures," wrote Christian Donlan.