Stop! Go! Die! Traffic Jams VR is kind of fun but only if you play it like a jerk
Watch Ian callously cause collisions in this week's VR Corner.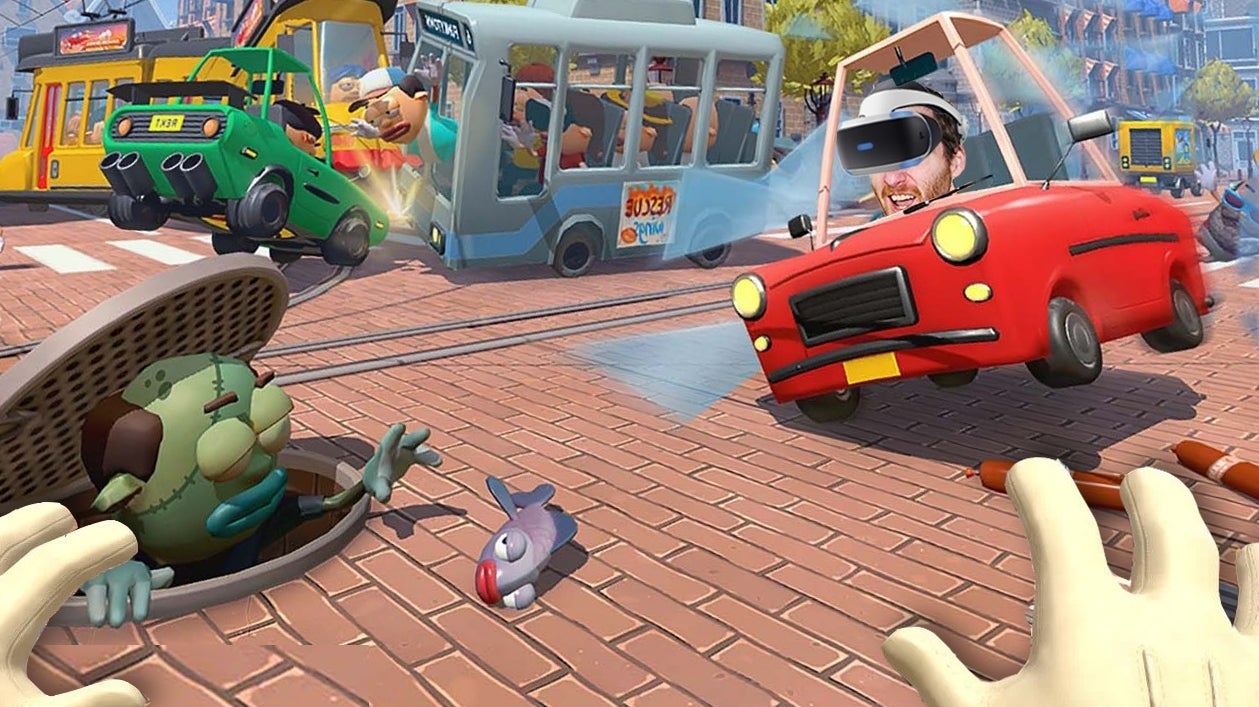 Slapstick VR game Traffic Jams finally released on PSVR this week after being available on PC and Oculus since September last year.
Traffic Jams puts players in the crisp white gloves of a trainee traffic controller who must guide pedestrians and motor vehicles safely through a variety of busy intersections from around the world.
It's a bright, cartoony and quite comical take on the simulator genre but it's safe to say that I grew tyre-d of its one note gameplay pretty quickly.
Even the rapid introduction of bizarre hazards like wasps, zombies and even an unexpected meteor from space couldn't stop its wacky traffic controlling action feeling stretched thin and repetitive. But, rather than just succumbing to the monotony of it all, I slammed on the brakes and decided to create my own amusement by causing as much car-based carnage as I possibly could.
You can see the chaos unfold in this week's episode of Ian's VR Corner as I take Traffic Jams for a spin on my PS5.
Traffic Jams is a seated VR experience with a similar, family friendly vibe to the Job Simulator games, albeit without the mission variety and the deadpan humour. That means VR enthusiasts of all ages and skill levels should be comfortable playing the game, although I suspect it will appeal much more to the younger audience.
Traffic Jams uses motion controls to allow you to control the flow of traffic using real-life gestures, so be aware that you will need at least one Move controller to play this.
Using the Moves you can halt traffic and pedestrians by showing them the palm of your hand, or move them along by beckoning them towards you with an exaggerated wave. The levels get bigger and more intricate as you progress and some of them have unique but short-lived set pieces like the kaiju attack in Tokyo that you can witness in the video above. Even with the occasional surprise Godzilla foot though, the core gameplay mainly revolves around traffic management and that repetition soon drove me round the bend.
For any budding traffic controller with friends, there is also a multiplayer party mode available that up to four friends can join via mobile or PC. I haven't been able to give that a spin yet but the people in this trailer sure seem to be having something that resembles a good time, so who knows, maybe that mode will help to drive up the entertainment value a bit.
If you enjoyed this episode of Ian's VR Corner, you can catch up with my previous adventures over on YouTube in our VR playlist, where I've covered Valheim VR's motion controls mod, Doom 3 VR Edition and everything we know about PSVR 2 so far. You can also read our list of the best VR games.