Still no Trine 2 on European PSN Store
All Zombies Must Die, Wild Arms will have to do.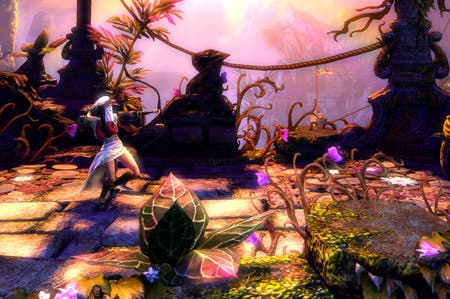 Top-down Zombies Ate My Neighbours-style shooter, All Zombies Must Die, headlines a dilapidated European PlayStation Store update today.
We'd suggest holding off buying until you've read Eurogamer's All Zombies Must Die review, published tomorrow afternoon.
Other PS Store content of note is vintage PSone game Wild Arms, and a Challenge Map Pack for Batman: Arkham City.
There's still no sign of Trine 2, however, which presumably means Europeans will wait another week. Americans received Trine 2 on 20th December 2011.
There's no sign of an English version of Arc the Lad, either, despite being one of the discounted PS Plus offers this month.
Nevertheless, the PlayStation Store Festive Sale will continue until 11th January. That's something, right?
PS3 full games
All Zombies Must Die! (£7.99/€9.99) - 313MB
PS3 DLC
The King of Fighters XIII: Iori With The Power Of Flames (£3.19/€3.99), Nests Style Kyo (£3.19/€3.99), Unlock 'Billy', 'Saiki (Human Form)' (£0.79/€0.99)
Wizardry: Labyrinth Of Lost Souls: Wizardry: Labyrinth Of Lost Souls Additional Scenario 'The Red Shadow Of The Sister' (£4.79/€5.99), Wizardry: Labyrinth Of Lost Souls Dungeon Of Trials Open (£1.39/€1.75), Wizardry: Labyrinth of Lost Souls Limit Free Levels (£1.39/€1.75)
Batman Arkham City - Challenge Map Pack (£2.99/€2.99)
Eyepet - Lucky Dip Sunshine (Free)
Motorstorm Apocalypse - Happy New Year Livery (Free)
PSone games for PS3/PSP
Wild Arms (£3.99/€4.99) - 278MB
PS minis for PS3/PSP
Tiny Hawk (£2.49/€2.99) - 5MB
Rock Band 3
Fueled By Ramen Pack 01 (£4.99/€7.99)
(Includes the following content, also available separately)
I Write Sins Not Tragedies - Panic at the Disco (£0.99/€1.49)
Panic - Sublime With Rome (£0.99/€1.49)
Pressure - Paramore (£0.99/€1.49)
Stereo Hearts - Gym Class Heroes (ft. Adam Levine) (£0.59/€0.79)
You Make Me Feel… - Cobra Starship (ft. Sabi) (£0.99/€1.49)
Billionaire - Travie McCoy (ft. Bruno Mars) (£0.99/€1.49)
Rock Band Network
Dawn Of Spring - Christopher J (£0.59/€0.79)
Revenants - The Cold Goodnight (£0.59/€0.79)
Riptide Resort - Freen in Green (£0.59/€0.79)
The End Of Progress - Mystakin (£0.59/€0.79)
The Thief In The Night: Part I - Chaotrope (£0.59/€0.79)