Stick-figure wild west comedy West of Loathing is heading to Switch this spring
UPDATE: Out at the end of the month.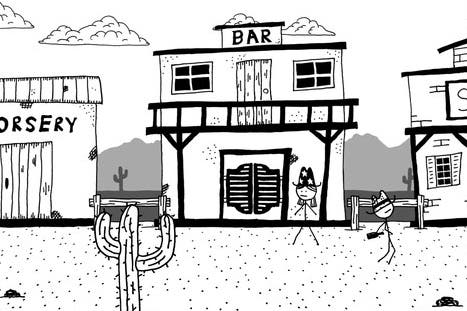 UPDATE 21/5/18: Asymmetric Publications has finally shared the news that Switch-owning fans of daft stick-figure cowboy comedies have been waiting for: West of Loathing comes to Nintendo's console on Thursday, May 31st.
West of Loathing - or, as Asymmetric would have it, "Skyrim with beans and big hats" - is a sprawling, supremely silly RPG, "chock full of stories, saloons, and side quests".
It features three hero classes - Snake Oiler, Beanslinger, and Cow Puncher - and, far more importantly, more than 50 stylish hats. You can see some of those hats in the trailer below.
---
ORIGINAL STORY 20/3/18: Developer Asymmetric Publications has announced that its delightful stick-figure wild west comedy West of Loathing will be making its way to Switch this spring.
Asymmetric calls West of Loathing a "single-player slapstick comedy adventure role-playing game", and it's a spin-off of the developer's long-running, browser-based multiplayer RPG, the Kingdom of Loathing. Where Kingdom of Loathing is a largely text-based, lo-fi experience, however, West of Loathing offers a gloriously surreal, fully animated cowboy adventure, playing out something like a point-and-click game.
"Talk your way out of trouble as a silver-tongued Snake Oiler," says Asymmetric, "plumb the refried mysteries of the cosmos as a wise and subtle Beanslinger, or let your fists do the talking as a fierce Cow Puncher. Explore a vast open world and encounter a colorful cast of characters, some of whom are good, many of whom are bad, and a few of whom are ugly."
West of Loathing promises eager Switch adventurers a world full of "danger, quests, puzzles, and mysteries", alongside (as per its Steam page) optional turn-based combat, full stick-figure customisation, disreputable saloons, several gulches, a drunk horse, and perhaps most importantly of all, "over 50 hats".
West of Loathing will be a "console exclusive" when it arrives on Switch this spring.