Steam update helps you discover games you're interested in
Theoretically.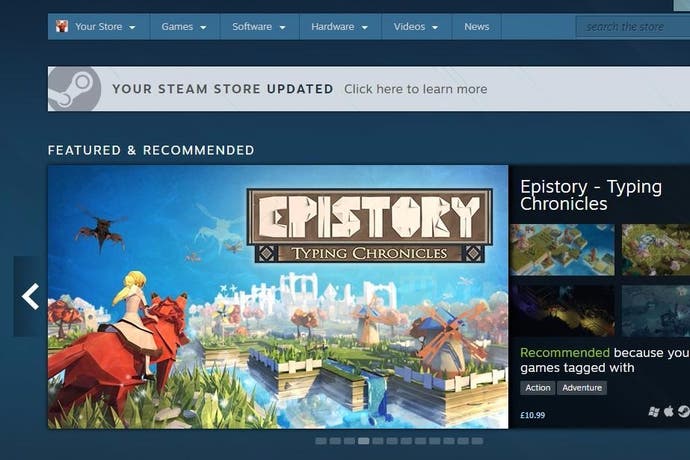 Valve has updated Steam to make it easier for people to find games they're interested in.
The Discovery Update adds smarter recommendations, which are based on what you've played, what your friends have played and Steam curators.
The new highlights section tells you why a game was recommended. For me, Steam recommended a game called Epistory - Typing Chronicles because I played games tagged with "action" and "adventure".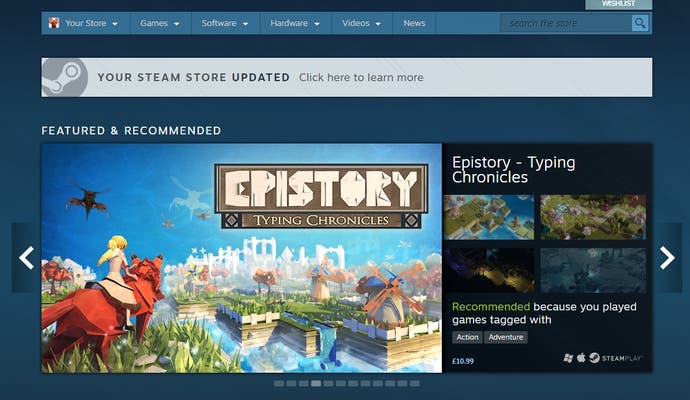 I hadn't heard of Epistory, and digging deeper it's had a positive reception from players and looks quite nice. So it's pretty cool that out of all the games on Steam, this was one recommended to me.
Also useful: in the preferences menu you can pick up to three tags to filter out games you're not interested in. So, if you'd prefer your recommendations free from free-to-play or virtual reality titles, for example, you can now make it so. You can get to preferences by clicking the little tab in the top right of the main "featured" window.
You'll also see new "Big Blue Buttons", which let you quickly and easily jump to common destinations on the Steam store, such as new releases.
One negative: Steam still hasn't changed the way the game library works to let you organise everything. This is something Steam users have long-called for. Come on Valve!
There's a lot more to the update, which Valve rounds up here. It's worth playing around with how it all works.