Stasis dev shows off gorgeous isometric sci-fi adventure Beautiful Desolation
UPDATE: Out next week.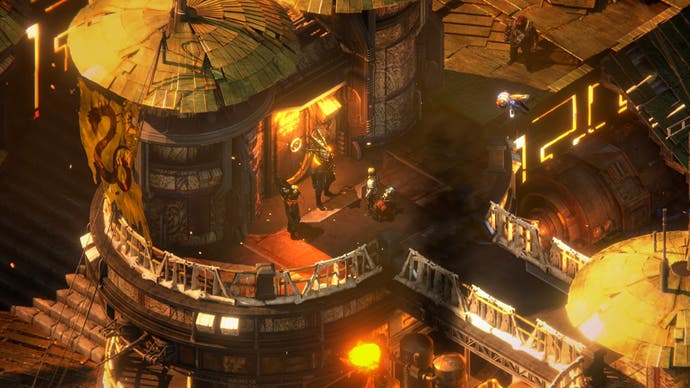 UPDATE 18/2/20: Developer The Brotherhood's striking post-apocalyptic point-and-click adventure Beautiful Desolation - the (unrelated) follow-up to its excellent 2015 sci-fi horror Stasis - will be is heading to PC next Wednesday, 26th February.
And with that news comes a bit of additional scene-setting to get you in the mood: "The Penrose appeared without warning," teases The Brotherhood, "The technology hurtled mankind forward, but a catastrophic event meant that desolation would ensue. The world's chaos quietened but there was tragedy at home for Mark and Don Leslie, when an incident tore apart their brotherly bond in this dramatic story that spans the 1980s and beyond."
The adventure that follows sees players exploring the Sub-Saharan wilds with Mark, Don, and their reconnaissance drone POOCH, in order to "discover villages, destroyed cities, colourful personalities, and uncover the secrets of strange and abandoned technology."
Beautiful Desolation will be available to purchase from Steam and GOG when it arrives next Wednesday, 26th February, and The Brotherhood says to expect the usual array of early discounts and bonus bundles in the first week of release.
---
ORIGINAL STORY 5/2/20: The Brotherhood, responsible for 2015's wonderfully atmospheric isometric sci-fi horror Stasis, has unveiled a new trailer for its latest project: lushly rendered post-apocalyptic point-and-click adventure Beautiful Desolation, which is heading to PC soon.
Beautiful Desolation, which entered development after a successful Kickstarter campaign back in 2017, follows the adventures of protagonist Dr. Mark Leslie, described as a "man out of time", as he searches for his missing brother in a post-apocalyptic future "ruled by highly advanced technologies which are both revered and reviled".
"Your surroundings hold echoes of a desolate past, and glimpses of a dark future that has yet to be written by your actions," explains The Brotherhood, "Be prepared to face many tough choices that will shape this land long after you complete your journey."
According to the developer, responding to a query on Reddit, Beautiful Desolation will, like Stasis, use the classic point-and-click template as its starting point. There are puzzles to solve, conversations to be had, even a codex of alien flora and fauna to fill - but there's a less linear approach to storytelling, and arena-style turn-based combat is included, albeit as part of an "entirely optional" narrative branch.
Although it's been some time since I played Stasis, I remember being distinctly impressed by its squalid, darkly oppressive sci-fi horror ambience; it looked fantastic, told an interesting yarn, and managed to be genuinely unsettling in a genre not often known for its scares.
And while there's only a trailer to go on so far, Beautiful Desolation's atmospheric pre-rendered visuals look even more spectacular (The Brotherhood also did early concept work for InExile's upcoming Wasteland 3), featuring striking Africa-inspired world design that blends a retro-futuristic aesthetic with Sub-Saharan flora and fauna.
Beautiful Desolation is scheduled to launch on Steam and GOG sometime in the "early" part of this year (its latest Kickstart update offers a slightly more specific "end of February" release window), and The Brotherhood says it might investigate a console release in the future.
Stasis, incidentally, has a short, free spin-off adventure called Cayne (which I've admittedly not had chance to play), should you be at all curious about the developer's work.