Star Wars: The Old Republic lay-offs confirmed
BioWare "ensuring affected people are treated with dignity, fairness and respect."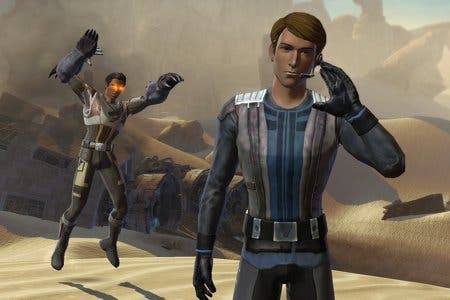 An undisclosed number of Star Wars: The Old Republic developers have been made redundant in a bout of restructuring at BioWare Austin, the developer has confirmed.
A post on the MMO's official forum from studio chiefs Greg Zeschuk and Ray Muzyka announced the news, but didn't offer a concrete reason for the lay-offs.
"Sadly, we are bidding farewell to some talented, passionate and exceptionally hard-working people who helped make SWTOR a reality. Impacting people's lives this way is always very hard, but we're ensuring the affected people are treated with dignity, fairness and respect," they wrote.
The pair went on to assure fans that there is still a big team working on the game, with significant updates planned for the near future.
"Looking forward, the studio remains vibrant and passionate about our many upcoming initiatives for Star Wars: The Old Republic," they explained.
"We still have a very substantial development team working on supporting and growing the game, and we feel we are in a strong position, with your continued involvement and feedback, to continue to build Star Wars: The Old Republic as one of the most compelling and successful online experiences in the world today.
"There are many strong initiatives planned for cool new content and new features that we're excited to tell you about in the upcoming weeks and months.
"Rest assured that we remain dedicated to delivering a high quality service in SWTOR to you, our fans, and we will continue to support and grow Star Wars: The Old Republic over the weeks, months and years to come."
A statement from EA handed to GamesIndustry International added that some of those affected "will be able to join other projects within EA, others will leave the company".
Last month publisher EA revealed that subscriber numbers for the game had dipped from 1.7 million to 1.3 million between February and May this year.